Post date:
Wednesday, August 5, 2015
Clothes. Cars. Computers. They don't last forever, succumbing to wear and tear, obsolescence, or shifts in interests and tastes.
It's the same with library books. The Kansas City Public Library counts some 747,000 items in its collection, housing close to half of them in its downtown Central Library. They age. Some are torn or stained. Others languish on the shelves, unnoticed or unneeded by patrons for years. If not timeless classics, it might be time for them to go.
The formal term for removing materials that have outlived their usefulness is deaccession. Informally, libraries call it weeding. "It's an essential part of maintaining and managing your collection," says Debbie Stoppello, the Kansas City Public Library's collection development manager. "If you didn't weed your garden, it would get overrun. It's the same premise."
The Library uses a two-pronged approach. Librarians at its 10 locations keep an eye out daily for damaged or outdated books that might be candidates for removal from the collection – what Stoppello calls "a serendipitous type of weeding." And there is active weeding, a more focused and concerted effort to evaluate the Library's holdings and identify what perhaps should be culled. The Central Library is in the midst of its first such undertaking since moving into the former First National Bank Building at 10th and Baltimore in 2004.
Originally planned to take place over a couple of years, the thorough, long-overdue weeding at Central has been accelerated as the Library does some rearranging and makes room for a new, first-floor technology center. From February through the end of June, according to Central Director Lillie Brack, some 30,000 items had been removed. But the past year also has seen the addition of more than 39,000 items.
All told, the Central Library was home to more than 365,000 shelf-ready items at the start of its new fiscal year in July.
Weeding is no simple process. The Library carefully spells out its guidelines for evaluating and withdrawing materials. They must be deemed obsolete – the subject matter no longer timely, accurate, or relevant. Or they're found to be damaged or in otherwise poor condition. Or they're completely ignored by patrons, not checked out for years. Or there's a space crunch.
Reference librarians do the evaluating, with five of the seven at Central pulled into its current weeding project.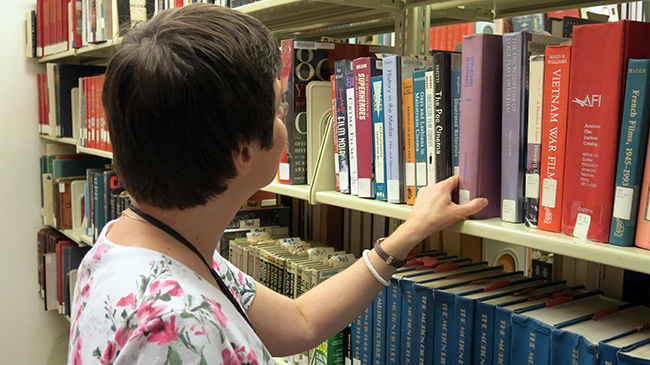 Reference librarian Judy Klamm evaluates books while weeding at the Central Library.
"I'll look at the dead list," says Carol Bruegging, a reference librarian at Central for 25 years, "and pull some of those books out and say, 'Yeah, that can go. It's not being used; I see it hasn't been checked out. It's kind of ratty looking. Maybe the cover is gone. Others, they're on the dead list and I think, 'You know, that was an important author, (maybe) an important person in child development. I don't care if it hasn't been checked out. It's staying. It needs to be part of the collection.'
"Everything on the dead list isn't going to go. And some things that aren't on the dead list are going to go."
Says Stoppello, "We are not an aggressive weeding library. … We make every effort to keep a book and give it a long life."
Or give it a new life.
A book that's no longer fit for Central might find a home in one of the Kansas City Public Library's nine branch locations. Many history titles are relocated to its Missouri Valley Special Collections.
Others have gone or will go to the National World War I Museum and Memorial, the Jackson County Family Court Juvenile Detention Center, the Midwest Center for Holocaust Education, area nursing homes, senior centers, and smaller Missouri libraries. Many children's books in good condition wind up in preschools and child-care facilities as part of the Library's Books to Go program.
The remainder go the Friends of the Library to be featured, if usable, in their annual series of book sales. What they can't use is shipped to the Rehabilitation Institute of Kansas City, which sells what it can—tens of thousands of books in the past 2½ years—and recycles the rest.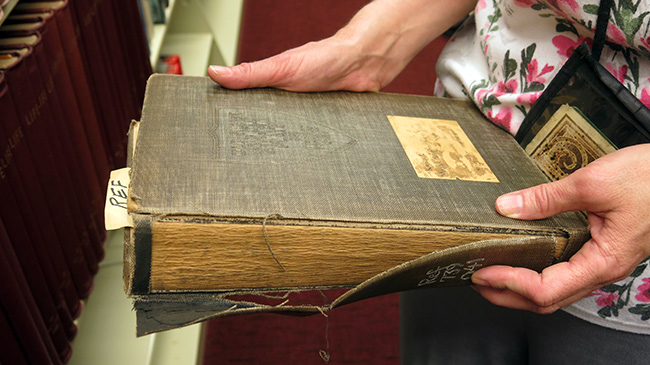 A candidate for weeding: a history of silversmiths' art in Great Britain and Ireland, published in 1936
and showing its age.
"There are so many chances a book gets to have a new life," Stoppello says. "And many of them do get new life."
The Library's aim is to complete its extensive weeding in Central by the end of August. The result should be a more vibrant, more relevant, more accessible collection.
Nationally, libraries often see circulation spike after a weeding project as their patrons no longer have to sort through aging or unwanted titles in search of something they want or like. "It's like getting out the deadwood," Brack says. "You can't browse a popular area if every second or third book is something old and moldy and outdated."
"We want to keep our collection viable so it is meeting our patrons' needs with material that is relevant, up to date, of interest, and in reasonably good physical condition. … It's a continuous cycle."
– Steve Wieberg, Department of Public Affairs