After 95 rounds and nearly six hours of competition, spilling into an extraordinary overtime that drew worldwide media attention, Kush Sharma emerged Saturday, March 8, 2014, as champion of the Jackson County Spelling Bee.
The seventh-grader from Kansas City's Frontier School of Innovation carefully spelled out "definition" - the 57th word of the day and 261st of the championship bee - to nail down the title and a berth in the Scripps National Spelling Bee in Washington, D.C., in May. Runner-up Sophia Hoffman gave him an opening moments earlier, missing on "stifling." She had appeared to mishear the pronunciation and spelled it s-t-e-i-f-l-e-i-n, but an appeal was unsuccessful.
Sharma, starting a new round, then stepped to the microphone and drew a breath. Per his routine, he asked for the definition of what would be the bee's final word, its origin, use in a sentence, and part of speech. He mimed writing it in the palm of his hand, and calmly spelled it.
It ended a duel that was suspended two weeks earlier when bee officials famously exhausted their supply of words. News of the stalemate went national, then global, picked up by media outlets as far away as India, Pakistan, and Australia.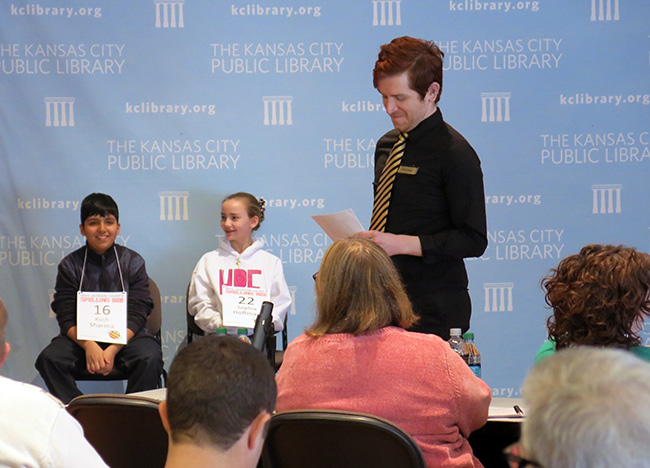 Emcee Wick Thomas joked with the spellers before the competition.
Saturday's spell-off in the Kansas City Public Library's downtown Central Library drew television crews from NBC's Today and Inside Edition, as well as each of Kansas City's four network affiliates. While the spellers faced off in front of family members, other invited guests, and reporters in the upstairs Helzberg Auditorium, some 70 spectators followed the contest via live-streaming on a projection screen in Central's main-floor Kirk Hall.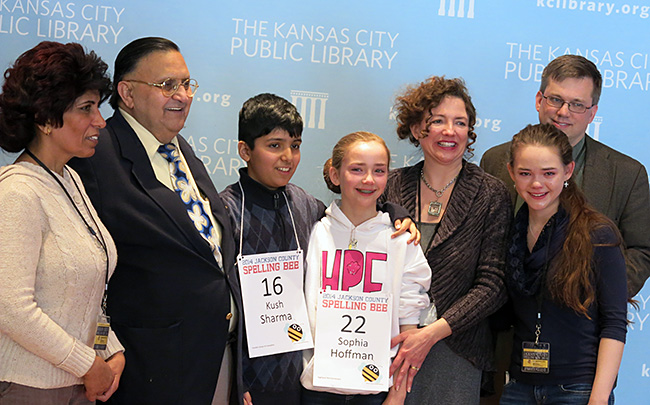 The competitors posed for photos with their families.
After surviving 66 rounds on February 22 — the last 47 head to head — the two finalists battled through 29 rounds in Helzberg. The 13-year-old Sharma sailed through such words as "Waywiser," "grabble," and "igneous." Hoffman, 11, correctly spelled "Permian," "belladonna," and muumuu," among others.
Sharma, who says he aspires to be a heart surgeon, will join some 280 other qualifiers in the 2014 Scripps national bee in Washington, held May 25-31.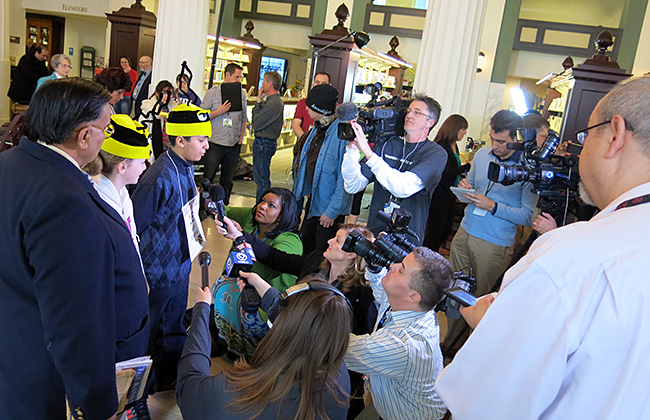 Media interviewed both Kush and Sophia after the Bee.
The Kansas City Public Library is a partner in the Jackson County Spelling Bee with the Mid-Continent Public Library, the Local Investment Commission (LINC), and the Kansas City Chapter of the American Federation of Teachers.