Post date:
Wednesday, September 12, 2012
For a library, sending people to Google may sound, well, a bit self-defeating. But when we learned that Google would be launching its brand-new, ultra-high-speed network in Kansas City, we began preparing for a Google Fiber future.
Now, with the end of Google's initial "rally" period in KC, we are happy to report that the Kansas City Public Library is going to be one of the first places in the world where you can access Google Fiber for free.
It's been a long road to becoming one of the world's first Fiber-equipped public libraries, however.
In the Beginning…
In the months following the spring 2011 announcement that Fiber was coming to KC, we had few details of how it would be deployed, who would get it first (whether homes or businesses), or what it would cost. We knew only that Google had struck a deal with Kansas City to provide free service to 300 schools, libraries, and other public buildings chosen by the city (see 6g in the agreement here).
Though we had little information to go on, the Library immediately recognized the potential positive impact that high-speed connectivity could bring to our service area.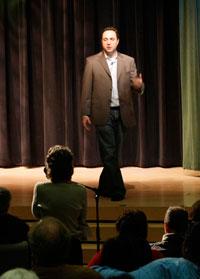 As a public library, we are the main access point to computer and Internet technology for people who don't have that access at home. We have provided a free Internet connection to Kansas Citians since the mid 1990s, and our current tech resources include more than 700 public computers and free public wi-fi at all 10 of our locations.
Boasting speeds 100 times faster than broadband, Google Fiber presents not only a significant boost to our existing electronic services but also an opportunity to build brand-new resources that would utilize the massive, 1GB pipe.
As we began dreaming of what we could do with this exciting technology (community-uploaded data! livestreaming cultural events!), so did others in the community.
Joining the Discussion
In the latter half of 2011, as it became clear that Google Fiber would be provided to homes and public buildings first, the Library positioned itself as a hub of discussion around how this technology could benefit citizens. Last fall, we partnered with the Social Media Club of Kansas City to host Building the Gigabit City: Brainstorming a Google Fiber Roadmap, the first major community summit to address the potential impact of Google Fiber in KC.
On October 3, 2011, 80 participants from the business, IT, and education communities convened for a day-long workshop at the Central Library to discuss how Google Fiber could be leveraged to benefit all areas of city life, including K-12 schools, higher education, health care, the urban core, suburban areas, community activities, the environment, and, of course, libraries. That evening, another 162 people listened to a summation of the daytime session's analyses and initial conclusions.
Video of Gigabit City: Brainstorming a Google Fiber Roadmap
The results of the October brainstorming session were officially released a month later at another Library event, Gigabit City: 1,001 Uses for Google Fiber, at which the Building a Gigabit City Report was released before a crowd of 150. Local radio and TV outlets covered the action.
Next, the Library began providing ongoing support to the Social Media Club's Give Us a Gig! initiative, which aimed to bring the Google Fiber discussion into the neighborhoods.  We also hosted the entrepreneur-focused Gigabit Challenge: A Global Business Plan Competition, a day-long startup contest that accidentally brought our wi-fi network to a crashing halt from the attendees' online activity (a Library first).
Then in spring 2012, as Google prepared to make its announcement, the Library hosted a digital inclusion forum that brought together community leaders (including our Library Director Crosby Kemper III) and Google representatives for a discussion of high-speed broadband and the digital divide. The Library's role as an access point in underserved communities was batted about by the panelists.
But it wouldn't be until July 2012 – more than a year after the initial announcement – that we would find out Google's actual Fiber scheme.
Rallying for the Prize
On the morning of July 26, 2012, at its freshly christened Fiber Space in the heart of midtown KC, Google laid out its Fiber options for home subscribers: (1.) a Google TV-plus-Internet bundle at $120/mo, (2.) 1GB Internet at $70/mo, or (3.) a "free Internet" service consisting of 5MB broadband at $0/mo after a $300 construction fee, paid either at once or over 12 months.
Google also announced that it would hold a six-week "rally period" during which citizens were asked to show their interest in Google Fiber by paying a $10 pre-registration fee that could be applied to their first bill.
Carving the city into "Fiberhoods," Google set minimum pre-registration goals for each zone, from five to 25 percent, based on population density. Google made it clear this was a one-shot deal; only the Fiberhoods that hit their goals by September 9, 2012, would be eligible for Fiber in the future. And that also applied to any schools, libraries, hospitals, community centers, or other public buildings inside those Fiberhoods.
For us, this meant that if our patrons didn't see the value of having Fiber in their neighborhood, there was a good chance we wouldn't get it at the Library.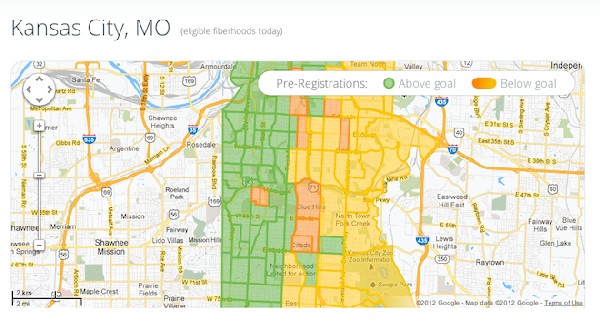 Fortunately, our patrons know what's good for their community. Two days before the rally period closed on September 9, 2012, at midnight, the eight Library locations that were eligible for Fiber had met their neighborhood goals (our two easternmost branches were outside of the initial rollout).
This rally period, however, was a rollercoaster ride for the Library.
For starters, some Fiberhoods hit their marks faster than others. Our Waldo and Westport Branches, located in higher-income neighborhoods, qualified quickly.
(Side note: Household income wasn't necessarily the driver, however. In Fiberhoods with high percentages of apartment and condo buildings, residents of "multi-dwelling units" experienced persistent problems that had to be resolved on Google's end. This affected our two biggest libraries: Central and Plaza, which didn't come through until the final week as property owners finally became able to pre-register in bulk.)
Driving pre-registrations at our branch libraries that serve lower-income areas of town proved the greatest challenge. In these parts of town, many people not only lack Internet service, they lack computers, email addresses, and sometimes even credit cards – all of which are required for pre-registration.
As the weeks passed, we sent out scads of fliers and online messages about how Google Fiber could help the Library. But as Fiberhoods on the east side of town struggled to move the needle, stories in the media emerged regarding the way Google's Fiber map was highlighting the digital divide in Kansas City. Meanwhile, neighborhood initiatives such as Neighbor.ly's Paint the Town Green effort began collecting donations to push Fiberhoods closer to their goals.
That's when we decided to take things into our own hands.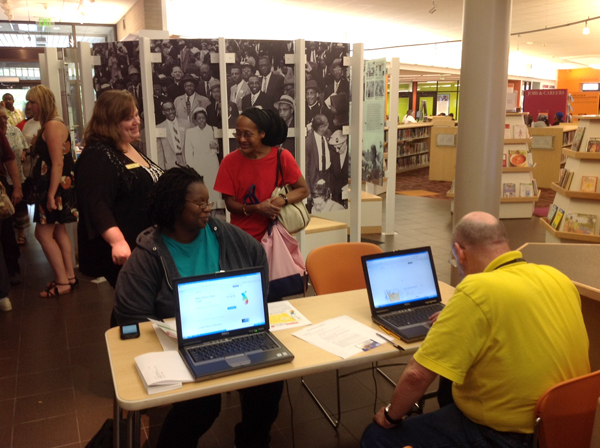 We saw that it would take just over $1,000 to pay the entire pre-registration costs in two crucial Fiberhoods: Key Coalition North, which contains our L.H. Bluford Branch, and South Town Fork Creek, home to our Southeast Branch.
Internet/computer use at these two libraries is among the highest of all of our branches, and thus it was not surprising that patrons there were not interested in pre-registering for a service they wouldn't be able to afford at home.
However, after securing a generous donation from the Friends of the Kansas City Public Library to cover the fees, it was easier to encourage people to pre-register. We explained that even if the customers chose not to get Google Fiber at home (in which case the $10 fee would be refunded), their local libraries and schools would still get the free connection. That pitch, it seemed, provided the tipping point.
Still, it took a lot of work.
In addition to asking our Bluford and Southeast staff to campaign at the service desk, we relied on neighborhood activists and community organizations such as LINC to help get the word out.
Fiber Going Forward
Now, the rally period has ended, and though our Library will be getting Google Fiber, many communities we serve did not meet their pre-registration goals. Google has indicated that these Fiberhoods will receive a second chance to sign up sometime in the future, and that grants will be awarded to community groups to increase digital literacy in the community.
Meanwhile, as outlets from Wired to the New York Times report on digital divide issues in Kansas City in the wake of the Fiber rally, the Kansas City Public Library will work to close that divide.
We will not only continue to provide access to the best technology we can for all people in the community. We will increase our outreach efforts to show people how getting connected can help them search for jobs, excel at school, launch their own businesses, research their family's history, and access a world of knowledge – to name a few benefits.
Google Fiber will make us faster, bigger, more powerful. But using technology to improve people's lives is what we do anyway.
We're a public library, you know.
About the Author
Jason Harper is the web content developer and social media manager at the Kansas City Public Library.