It's the first week of the 2010 school year in Kansas City, Missouri, a time of energy and excitement. And for many parents, it's a time for cutting back – those no. 2 pencils and spiral notebooks add up. Thanks to the KC Public Library's Ruiz Branch, nearly 200 Westside families got a break from the school-supply squeeze.
On Thursday, August 12, the Irene H. Ruiz Branch hosted the Ninth Annual Back to School Pep Rally. Described as "a Celebration of Learning," the event was organized by the library in partnership with the Westside Community Action Network Center and the Tony Aguirre Community Center .
Three hundred backpacks full of supplies were given to 175 families with students in Westside schools. The supplies were donated by a large group of individuals and companies, including neighborhood people, local businesses, and federal agencies.
"It couldn't be what it is without a lot of people," says Ruiz Branch manager Julie Robinson, who has helped with the event for the past seven years.
Crispin Rea, a brand-new at-large school board member for KCMO, attended the event. Rea lives in the Northeast, but his family's roots are on the Westside. "There's a deeply rooted sense of community. It's very tightly knit here," he says of the Westside.
The Back to School Pep Rally is nothing short of a neighborhood tradition.
"A lot of these kids come from households without a history of school careers. We want to send them off with the proper tools for learning," says Lynda Callon, executive director CAN Center.
Twenty-one library volunteers organized the supplies in advance, and 50 volunteers helped things run smoothly at the event itself – no small task considering 1,800 were in attendance. There were also workers from Drug-Free Sport , VolunTeams and Heart to Heart .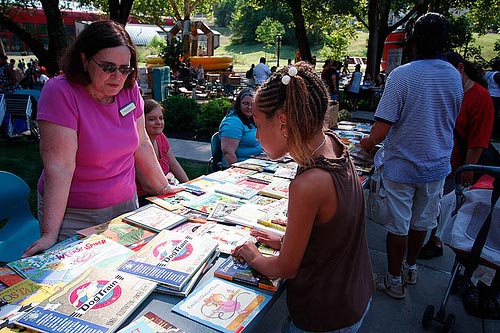 It's about more than just handing out three-ring binders, though. With attractions including several big air castles billowing in the street, carnival games, a juggler on stilts, a souped-up KCPD show car, and 30 vendor tables set up by groups ranging from Literacy KC to the local Woodturners Club (who made wooden tops for the kids), this was one massive block party.
And in the middle of it all: the library.
Vicki Hernandez, a fourth-generation resident of the Westside, says that people in the neighborhood rely on the Ruiz Branch for services such as free computer use and health insurance information. She says they also enjoy family events like the library's Fall Festival and the back-to-school extravaganza.
"It's the heart of the community, really," she says.
And that's especially true at the start of a new school year.
-- Jason Harper