When the Pulitzer Prize board failed to award a prize for fiction this year, we came up with one of our own, the Publitzer Prize. This week, we're letting you – the public – nominate potential finalists.  But first, our team of expert jurors will share their official nominations.
Last week, when the Pulitzer board failed to reach a majority vote, three finalists were summarily stiffed: The Pale King by David Foster Wallace, Train Dreams by Denis Johnson, and Swamplandia by Karen Russell.
To make up for the Pulitzerian failure, we're asking  you to nominate your favorite fiction book from 2011 to enter the running for the Publitzer Prize. (Nominate now.)
Because any good fiction contest needs guidance from the experts, we've assembled a top-notch team of local literati to help direct the proceedings: Steve Paul of The Kansas City Star, Scott Wilson of The Pitch, novelist Whitney Terrell (New Letters writer-in-residence at UMKC), and our own Kaite Mediatore Stover, director of Readers' Services.
Send in your nomination by noon on Friday, April 27, 2012. Then, our jurors will choose three finalists, which will be put to your vote beginning Monday, April 30; and on Wednesday, May 2, the Publitzer winner will be named.
Here now to tender his official nomination is Steve Paul, senior writer and editor for The Kansas City Star, who also offered his thoughts on the Pulitzer board's fiction snub last week in the paper.
Juror: Steve Paul
Nomination: Open City, Teju Cole

An immigrant wanders his adopted home and in the process tells the story of America in the world. Julius, the central character and narrator of Teju Cole's short and brilliant novel, is a young Nigerian psychiatrist in New York. He is smart and cultured, yet largely adrift. His tale winds through long walks around Manhattan, through Brussels, through music, literature and art, and through memories of his youth, as the son of a Nigerian man and a German woman. There is violence and there is awakening, and something near enlightenment as Julius confronts some of the truths of his experience. "Each person must, on some level, take himself as the calibration point for normalcy," Cole writes, "must assume that the room of his own mind is not, cannot be, entirely opaque to him."

Cole's novel, now out in paperback (for those still reading books between covers), was short-listed for the National Books Critics Circle fiction award and won the Hemingway Foundation/PEN Award for a first book of fiction. Opaque it is not. Highly readable and exquisitely alive it is. 

-- S.P.
There you have it. Check out Open City, and be sure to submit your Publitzer pick by noon tomorrow: Friday, April 27. And in the meantime, if you want to take in some of Steve's wisdom on our own city, drop by the Central Library, where his exhibit Kansas City Architecture: A to Z is now "open" on the 5th floor.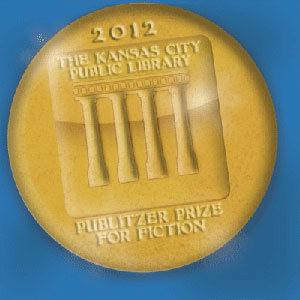 Click to Cast Your Nomination for the 2012 Publitzer Prize for Fiction
Other Jurors' Nominations:
Kaite Stover - Salvage the Bones
Scott Wilson - Long, Last, Happy
Whitney Terrell – The Marriage Plot
Publitzer Video: Crosby Kemper III on freeing the fiction.
About the Publitzer Coordinator
Jason Harper is the web content developer and social media manager at the Kansas City Public Library.