The readers have spoken. Voting in the finals for the 2012 Publitzer Prize for Fiction has closed, and a worthy novel has been democratically awarded the highest prize in mock American literary awards. Where the real Pulitzer Prize committee left off, you, the public, picked up.
Congratulations to Jeffrey Eugenides' The Marriage Plot, the landslide victor of the Publitzer Prize readers' vote. Now, in addition to being a New York Times Notable Book of 2011, Plot has the official stamp of approval of the Kansas City Public Library's uppermost echelon of fiction connoisseurs.
As a testament to the winner's popularity, as of this writing, all print copies of Plot are checked out from our system (a CD audiobook is up for grabs at Central).  However, there are several copies of the first and second runners-up – The Submission by Amy Waldman and Open City by Teju Cole – available at various branches.
So, if you're one of those who voted for Plot but have yet to read the other two, I suggest you get down to the Library. Or, alternately, click back to the many great Publitzer nominations tendered by your cohorts – that list was probably the best thing to come out of this little extravaganza.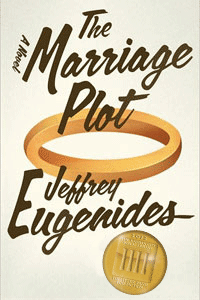 Because, after all, the Publitzer wasn't about making a grand literary statement or saving American letters from the clutches of an elitist cabal (well, maybe just a little). It was about having a lively community discussion of the great fiction books that came out last year. And I think we accomplished that.
We couldn't have done it without the help of our brilliant, discerning jurors: Kaite Mediatore Stover, Scott Wilson, Whitney Terrell, and Steve Paul. Be sure to read their nominations for, respectively, Salvage the Bones, Long, Last, Happy, The Marriage Plot, and Open City.
And this contest couldn't have happened without you, the reading public. To show our gratitude, we entered all the voters' names into a drawing for a Readers' Advisory Prize Package of books hand-picked by Kaite.
The winner of the prize drawing: Kelly Fann. Congrats, Kelly!
What Did You Think?
Now, it's your turn to sound off: What did you like/not like about the Publitzer Prize awards? Would you like us to do this again next year? What would you change about the contest? Who would you nominate for the jury?
You can give us feedback anytime – or lead the discussion yourself – on our Facebook page, Twitter feed, or Goodreads group.
Because as the Publitzer process demonstrated – if you're living in KC and you love good fiction, you're part of a reading republic.
About the Author
Jason Harper is the web content developer and social media manager at the Kansas City Public Library.