From Dec. 3 - 10, 2012, the Kansas City Public Library invites patrons to use Pinterest to share their Christmas Books: Past, Present, and Future for a chance to win a Kindle Paperwhite.
Do you like giving books as Christmas presents? How about receiving them? What books remind you of holidays past?
These are the questions we want you to keep in mind as you join us on Pinterest for a celebration of giving (and receiving) the gift of reading over the holidays.
If you've ever read or seen A Christmas Carol, you probably noticed how we've adapted the book's Ghosts of Christmas Past, Present and Future as our guiding motif. That's no accident as we've been remembering Dickens this fall through our What the Dickens? series of book discussions, performances, and events.
Now, as Christmas approaches (whether you celebrate the actual holiday it or not), we want you to have fun and get practical by using Pinterest to plan your book reading, gifting, and receiving this holiday season – all for the chance to win a pretty sweet prize.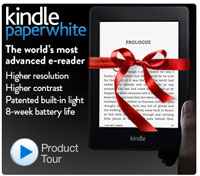 That's right, we're giving away a brand-new Kindle Paperwhite to one lucky pinner. The newest in Amazon's line of e-readers, the Paperwhite is receiving rave advance reviews for its innovative, ultra-readable screen.
(Note: The first Paperwhites are scheduled to ship Dec. 21, so if you win, you'll have to be a little patient.)
To qualify for the drawing, you must pin seven books between Dec. 3 and Dec. 10, 2012. And while we encourage anyone in the world to enter, you must be a Kansas City Public Library cardholder to win. (Fill out an online application, or, better yet, drop by any location to get your card today!)
Here's how to enter the KC Library's Christmas Books Pinterest Contest:

Follow the Library on Pinterest at pinterest.com/kclibrary.
Create a board titled "Christmas Books: Past, Present, Future"
Give it the description: "Books I'm remembering, gifting, and wishing for this year for @KCLibrary's Christmas Books Pinterest Contest."
Repin the original contest pin as your first pin to your Christmas Books board.
Email your board link to jasonharper@kclibrary.org.
Get equal parts creative and practical as you pin any combination of books that fall under these themes:

Books you have read, given, and/or gotten at Christmases Past.
Books you plan to give as Presents this year.
Books you hope Santa brings you in the Future (e.g. this year).

Pin at least seven (or more) books in any of the above categories by midnight on Monday, Dec. 10, 2012.
A winner will be drawn randomly on Tuesday, Dec. 11, 2012, at 9 a.m.
Be sure to follow the Library's own Christmas Books Contest board, where we'll be recommending books – and repinning your selections – all week long.
And now, the pun you've all been waiting for: Ladies and Gentlemen, start your pin-gines!
If you pin this blog post, use the image below: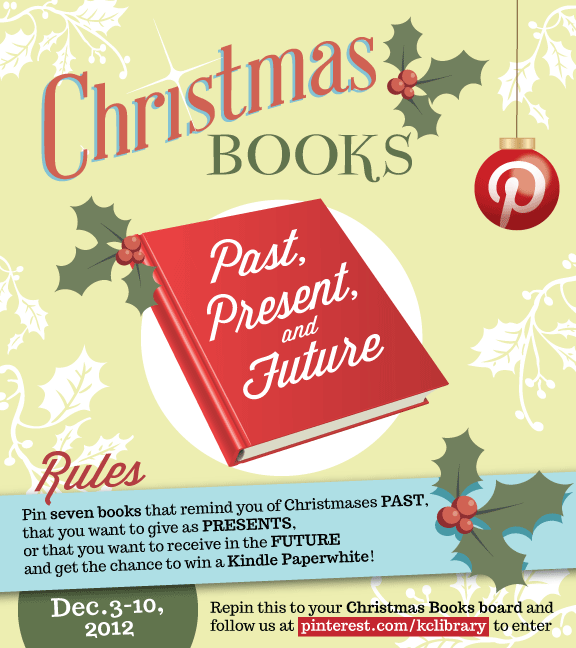 About the Author
Jason Harper is the web content developer and social media manager at the Kansas City Public Library.