The first time Carol Wallace heard "Canon in D" was when she was working in the arts and music collection of the Old Main Library on McGee Street, managing the record collection.
It was the '70s, and the Musical Heritage Society had just released a new recording of "Canon," which was, at the time, an obscure 17th century piece by a little-known German composer. Wallace took it home for a spin.
"I would listen to it over and over," she remembers.

It was thanks in large part to the Musical Heritage Society's pressing that Pachelbel's famous "Canon" today is almost as familiar as Wagner's "Wedding March."
Though she still oversees the Library's arts and music-related books and materials, Wallace (herself an accomplished organist) no longer checks out records to patrons. But as steward of the Central Library's Performing Editions Collection, she gets the music to the masses in an even bigger way.
Housed in the Missouri Valley Special Collections, Performing Editions consists of 321 orchestral scores, many inherited from the Kansas City Philharmonic (now the Symphony). These volumes of sheet music by composers, from Beethoven to Brahms and beyond, see regular use on the music stands of half a dozen area community orchestras.  
Regular visitors to the rolling stacks where Performing Editions are held include the Kansas City Chamber Orchestra, students at the UMKC Conservatory of Music and Dance, and the Philharmonia of Greater Kansas City.     
And as with so many of our Library resources, our music collection's reach extends the regions around Kansas City. 
During December 2010 and January 2011 alone, music was borrowed by the Liberty Symphony Orchestra, the Heritage Philharmonic, the Northland Symphony Orchestra, the Olathe Community Orchestra, and the Overland Park Orchestra.
For these community ensembles, borrowing music makes good financial sense.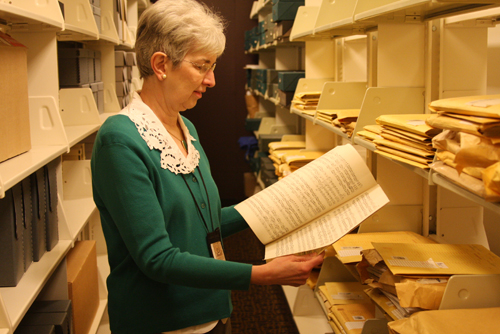 In a tight economy, paying for music scores from publishers, even at three-digit rental costs, is difficult for smaller community orchestras. Purchasing entire scores is often out of the question.
"Because of the economic downturn, our music purchasing budget has decreased," says Liberty Symphony Music Director Tony Brandolino. "This led to finding other means of keeping the level of music at a high standard."
The solution: borrow it for free.
Brandolino, who teaches violin at William Jewel College and conducts the Jewell Chamber Orchestra, doesn't take the Kansas City Public Library's sheet music collection for granted.
"Music is valuable," he says. "It's like we're borrowing a gold chain from you guys and just giving it back."
 Though not all Performing Editions scores are complete when checked out -- a second violin or clarinet part here and there has to be purchased or rented -- Brandolino attests to their quality.
"We don't do watered-down stuff, and you guys don't have any watered-down stuff," he says. "We can form several seasons from your Library."
And on May 7, at the Liberty Symphony's fourth and final performance for the season, Brandolino will be leading his orchestra through mostly borrowed material.
Both of the selections for the evening are from the Performing Editions Collection, specifically, Beethoven's Symphony No. 9 (minus the choral parts, which were provided by the choirmaster) and Barber's Adagio for Strings.
Wallace will likely be in the audience.
"I have season tickets to the Liberty Symphony, so Tony comes in, picks up music, and I get to hear it," she says.
"Even though I check it out to one person, it goes out to the whole community."