Post date:
Wednesday, April 20, 2011
The school year's winding down, and pressure to nail those grades is going up. As always, the Kansas City Public Library's here to help. Whether you're sweating that English paper or gearing up for a long night of calculus crunching, Brainfuse can hook you up with free online homework help from expert tutors any day of the week. All you need is a Library card.
Brainfuse is a suite of online tutoring services designed to help you master an academic skill, prepare for a test, or just get through a difficult homework problem by connecting you with certified online tutors offering a wide array of interactive, state-aligned activities for grades K-12. Tutoring help is also available in Spanish.
Brainfuse provides one-on-one homework help every day from 2 p.m. to 11 p.m. Access is available online on the Library homework help page. You must log in to Brainfuse using a Kansas City Public Library card and your PIN. (Forgot your PIN?) You can use Brainfuse from home, but you must first access it through the Library's website.
Chat with a Tutor
Brainfuse has a lot of features. But if you want to start working with a live tutor right away, begin with Homework Help or Live Skills Building.
Homework Help: To begin a live tutoring session, click the Live Help button on the Brainfuse main page, then select the grade level and subject. A live tutoring session will begin in an easy-to-use format.
Live Skills Building: If you're seeking to build academic skills in a specific area (such as developing a thesis statement, performing prime factorization, or learning more about the scientific method), the Live Skills Building option connects you  to a live tutoring session based on grade level, subject, and the skill of your choice.
Language Lab: ¿Como se dice? If you need help with your Spanish homework, there's a live tutor waiting in the Language Lab.
How to Conduct a Live Tutoring Session:
If you're familiar with instant-message/chat services like AIM, Skype, or Facebook Chat, then conducting a live-tutoring session is pretty straightforward. Once you launch the program, a new browser window will open. You'll be given a username, and a tutor will automatically be assigned to you.
Use the chat window in the lower-right corner to ask questions and interact with your tutor. Use the "whiteboard" in the space above to key in or copy-paste your homework problems that you need help with.
Example: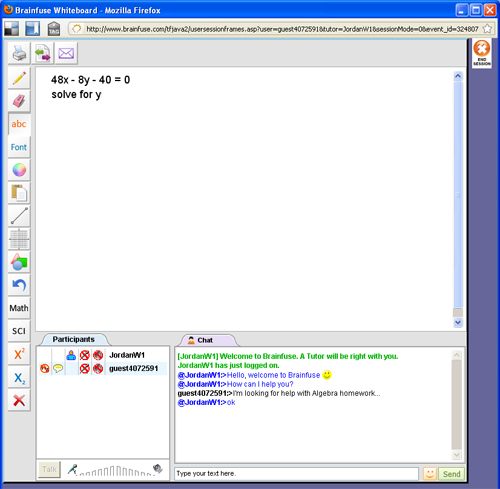 Other Services
Brainfuse also offers other free services, but to use them you must first register for free by creating a Brainfuse username and password. This is so that Brainfuse can do things like contact you with answers from tutors, save your tests for you, and keep track of your past sessions so you can refer back to them later. Once you're a registered user, you can use any of these services:
Writing Lab: Submit your papers through the secure file-sharing system in order to receive in-depth analysis of essays, papers, and other writing assignments. It's as easy as attaching something to an e-mail. Papers will be returned within 24 hours with constructive comments.
Test Center: Take practice tests for state standardized exams as well as the ACT and the SAT.  
24/7 Center: If you log in during a time when no tutors are available, leave a question in the 24/7 Center and get a response back within 24 hours.
Brainwave: This nifty collaborative tool allows you to record a movie of your activity on the Brainfuse whiteboard. Use it for notetaking purposes or when typing an ordinary email isn't enough – a great way for recording solutions to math problems. You can also search other people's Brainwaves.
MEET: Just like it sounds! Use MEET to schedule online meetings with friends to study, work on homework together, and collaborate on projects.
Flashbulb: Need to study on the go? Flashbulb gives you 24/7 access to flashcards in hundreds of subjects that you can look at on your mobile device or computer.
Happy studying! If you need help using Brainfuse or any of our other Homework Help resources, call the Central Youth Services desk at 816.701.3441.