Post date:
Thursday, December 16, 2010
Update, September 2011: Since this blog entry was posted, more e-readers and devices have become available for use with Library e-books, including the Amazon Kindle. Visit our e-reader tutorial page for the latest information.

With an estimated 10 percent of adults planning to give e-readers as gifts over the holidays, the season of the e-book is truly upon us. As you prepare to wrap – or unwrap – that shiny new Nook or Kindle, check out this guide to checking out e-books from the Kansas City Public Library.
Just as with printed books, when it comes to affordable e-reading, libraries are a bountiful resource. The Library has a growing collection of more than a thousand e-books that you can download and transfer to your e-reader. We also have many more that can be read online through NetLibrary. This blog post will focus on downloadable e-books, which are provided to the Library through a service called OverDrive.
It takes a little time and a teensy bit of effort to check out e-books, but once you're familiar with the process, it's a breeze.
I got an e-reader. Now what?
Not all e-readers are made equal – at least when it comes to the ability to download and read the Library's e-books. You should be OK if you have one of the following:
Nook
Kobo
Sony Reader
iPad (with installation of app)
Pandigital Novel
Literati Reader
Check out OverDrive's list of all compatible devices to find out which e-readers work with our collection of Adobe PDF e-books.
Wait, what about my Kindle?
It's a fact of life in the book biz that not all e-readers work with the Library's collection. For example, Amazon's popular Kindle does not work with our e-books. So if you're getting a Kindle for Christmas, sorry, Charlie Brown, you'll have to wait until Amazon allows the Kindle to accept the Adobe e-books that OverDrive provides to the Library. (The reason you can't read our e-books on your Kindle has to do with Digital Rights Management [DRM] and how publishers and vendors choose to control the distribution of content. Here's a more thorough explanation.)
Apple products and smartphones: You can read the Library's e-books on Apple products such as the iPad, iPod Touch or iPhone, or just about any smartphone. To do this, you must download a third-party e-book reader app such as Blue Fire for Apple or Aldiko for the Android. Most of these apps are free – just make sure that the app supports Adobe PDF e-books. The Nook iPhone app cannot be used for Library books. (Get instructions for how to read library books on an iPhone with Blue Fire.)
When all else fails: You can always check out an e-book and read it on your computer.
How to Check Out E-books for a Nook, Kobo or other compatible e-reader
1. Go to the Library's OverDrive catalog.
Though you can find e-books through our regular catalog, the best place to start is our OverDrive catalog. This is the Library's digital collection home base, where you can find out what e-books (and audio books) are available to check out.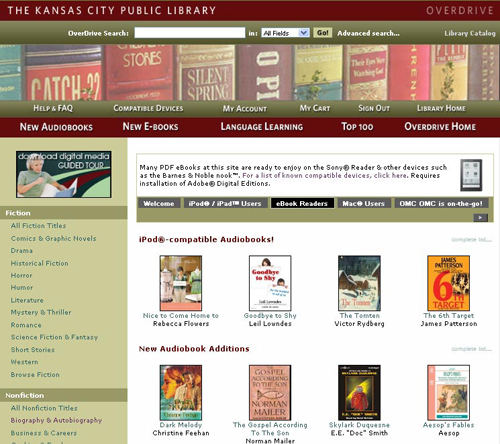 Format: All of our e-books are currently in Adobe PDF format. Adobe EPUB is another popular e-book format; it works with the aforementioned Apple and smartphone devices without having to download an additional third-party app.
Availability: As with a physical book, libraries can only buy a certain number of copies of any given e-book. If all copies of the e-book you're looking for have been checked out, the record will still display, and you can place a hold on it.
2. Download and install Adobe Digital Editions (ADE) on your computer.
To check out our Adobe PDF e-books and read them on your e-reader, you must install the free software program Adobe Digital Editions. Much in the way that iTunes manages the music files on your computer and allows you to transfer them to your iPod, ADE manages your e-book library and lets you read e-books on your computer or transfer them to an e-reader. Find the download link on the Library's OverDrive site, or go directly to Adobe and look for this: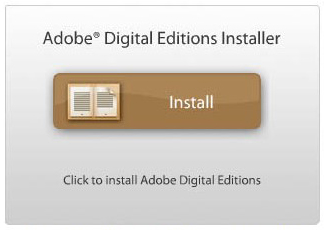 Note: In order to move your downloaded e-books from your computer to your e-reader, you will need to create an account with Adobe.  If you don't create an account, you can still check out e-books anonymously, but you'll only be able to read them on your computer. (More on that here.)
4. Find a book.
The OverDrive catalog lists e-books and audio books together. E-books are denoted by the "Adobe PDF eBook" label and icon. If you're looking for a specific e-book title or author, try Advanced Search (it's to the right of the search window at the top of the OverDrive home page). Type in the name of the author (OverDrive calls it "Creator") and/or title, then select Format: "Adobe PDF eBook."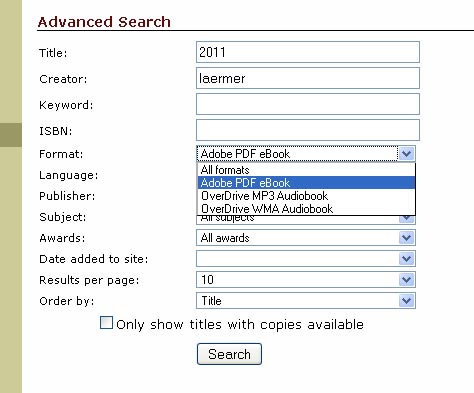 5. Add to cart and proceed to checkout.
Click the "Add to cart" link on an e-book page. You can have as many as 12 e-books in your cart at a time and can check out up to 10 e-books at a time, for 21 days each. Once you're done adding e-books to your cart, click on "My Cart" on the top menu to return to your cart screen, and click "Proceed to Checkout."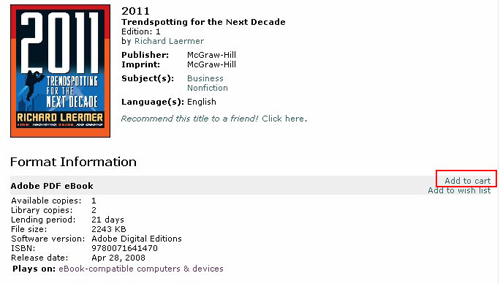 Enter your Library card number and PIN. (If you forgot your PIN, get it sent to your e-mail via this online form.) Click "Confirm Check out" and click the "Download" button under each e-book. In the pop-up window that appears, select "Open With: Adobe Digital Editions." ADE will open on your computer and show all the books you've downloaded. (If you chose "Save File" when downloading the book, you can manually click and drag it to ADE or select "Add Item to Library" under the Library menu in ADE.)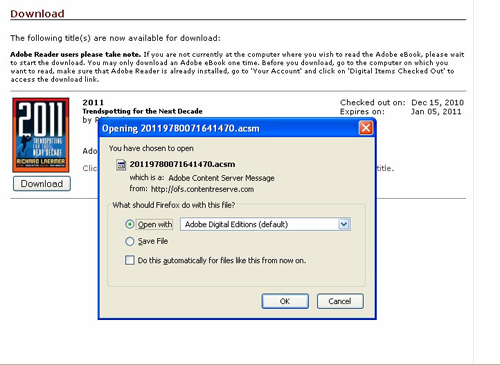 6. Drag the e-book to your e-reader in ADE.
Once you've downloaded the e-book, plug your e-reader into your computer. It should show up in ADE on the left-hand side under the Bookshelves header in Library View (get to Library View by clicking on the icon consisting of three book spines). Click the e-book and drag it to your e-reader. Voila!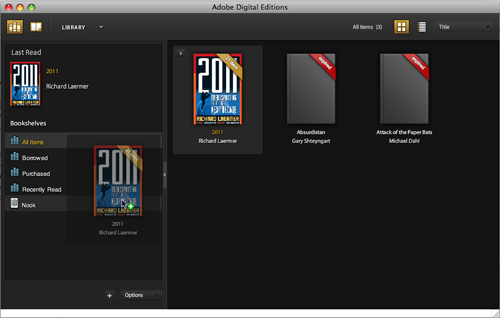 The e-book will be available in your e-reader for 21 days. You can return the item manually via the pop-up menu in the upper-left-hand corner of the book cover icon in ADE.
Happy e-reading!
Feel free to post comments to this entry if you have questions or want to share your experience checking out e-books. As the publishing world changes to adapt to new media, the Library's e-book services and collection continue evolving, and we'll keep you updated as to improvements and changes.
The Library will be offering a free workshop on e-books and e-readers on January 14, 2011, at 2 p.m. in Room 311 in the Central Library. In addition to demonstrating how to check out e-books from the Library, the class will cover other sources of free e-books. Call 816-701-3349.