Post date:
Tuesday, February 22, 2011
Do you want to learn a craft or art, but don't feel inspired or know where to start? Or maybe you're already a crafter or artist but would like to learn more and dig deeper into your passion. At the Kansas City Public Library, inspiration and guidance can be found in a wide and wonderful selection of titles about many arts and crafts!
In a series of articles, I will seek out some of the titles available in different arts and crafts, make suggestions on how to search for titles and other resources, and explore other ideas on using these resources – in general how to get creative about getting creative! And as I have experience in running a business making and selling my own crafts, I will explore the "getting down to business" side of crafting in an article of its own.
In this first article, I'm exploring a craft near and dear to my heart: jewelry design! I've been designing and making jewelry since the 1990s, and I frequently use Library resources to increase my skillset and keep inspired.  
If you are new to jewelry creation, one of the first things to think about is what sort of jewelry you want to make and the material and tools you'll need to make it. Beading? Beadweaving? Gemstones? Wire wrapping? Metalsmithing? Vintage-inspired? What about making your own beads, or other components, in polymer clay, precious metal clay, glass, or crochet?
Browsing the shelves in the 739.2 and 745.5 call number areas, especially at the Central Library and Plaza Branch will yield a good selection of books to peruse for ideas.
Some titles I found at Central include:
The Beader's Handbook by JuJu Vail: Includes techniques and tools for basic bead stringing, as well as beadweaving.
Step-by-Step Jewelry Workshop by Nicola Hurst: Covers tools and basic techniques for metal work and smithing.
The Creative Jeweler by Sharon McSwiney: Includes projects that utilize various materials and techniques such as wire, beads, plastic, copper, aluminum mesh, and many more.
Other titles I spied include Beading Vintage-Style Jewelry by Marty Stevens-Heebner, Working with Precious Metal Clay by Tim McCreight and Polymer Clay for the Fun of It by Kim Cavender. There's even a Jewelry Making and Beading for Dummies, plus more beading books than you can, well, shake a jar of beads at.
Using the Online Catalog
Be sure to search the online catalog, as there are wonderful jewelry books scattered throughout our branches and consortium libraries, as well as titles currently checked out to other customers.
A basic search of the library's catalog using "jewelry design," "creating jewelry" and "bead jewelry" as keywords will turn up titles such as Chain Mail Jewelry: Contemporary Design from Classic Techniques by Terry Taylor, The Complete Book of Glass Beadmaking, by Kimberly Adams, and Junk Jewelry: 25 Extraordinary Designs to Create From Everyday Objects, by Jane Eldershaw.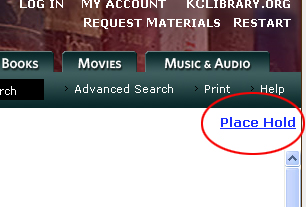 Place a hold: If you want a title at another location or one that is currently checked out, you can request a "hold" on that item and select the location you wish to pick it up at. Once it is available, it will be sent to the location of your choosing and held there for a week for you to pick up.
Search tip: Be sure to play with and refine your search terms in the catalog to get the most comprehensive results. For example, click the Advanced Search and use keywords such as "polymer clay" or "silversmithing," or "beadweaving" and also scan and click on the related subjects listed in the word cloud to the left of the catalog listings. You might also want to look for books on the history of jewelry and beading, to get ideas for your own work.
Why books?
Now, you might think that learning glass beadmaking, silversmithing, stone setting, or even certain kinds of beading are too complicated to learn simply from a book, and you'd have a point. There are safety issues and techniques that are best learned in a workshop or class. However, a good book will at least let you know what sort of materials and tools are needed, and give you an idea of what kind of initial investment you might have to make to get started.
Also, most books have "Resource" sections in their appendices, and these sometimes include teachers, workshop locations, suppliers, and websites. Why fumble across the internet trying to find all these things on your own, when an intrepid author has done much of this work for you!?
Another great thing about the Library's collection of crafting books is that you can preview a book before you decide if you want to buy. Why spend a lot of money on tons of books if in the end you might only refer to a few more than once? Save that money and spend it on tools and supplies! And don't forget about the library's interlibrary loan services for harder to find books outside of our system.
Don't Forget Periodicals
Another resource the library has that you might not have considered is magazines. The Central Library subscribes to Jewelry Artist, American Craft, and Crafts n' Things.  Jewelry Artist is a great resource, with step-by-Step projects for beginners to more advanced, in addition to informative articles and stunning photographs.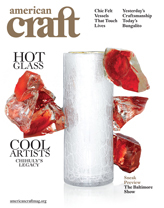 American Craft is a wonderful magazine that features top artists in a wide range of crafts, including jewelry. I'm always inspired by the photographs in American Craft for color, form, and simply crafting excellence, no matter what the craft is. And magazines are another great way to get informed about tools, supplies, shows, and classes. For example, Jewelry Artist publishes a "Supplier and Resource" edition once a year.
If you want to find out if a magazine has an article on a specific topic – for example, maybe you want to know what the latest and greatest in jeweler's torches are - then try our ProQuest Periodical Database. (You can access it from home with your Library card.)
By doing an Advanced search in ProQuest for "torches" as a topic, and "Jewelry Artist" as a publication title, I found a November 2010 article entitled "Jeweler's Torches," which gives a great rundown of the different kinds of torches currently available.
ProQuest also publishes full text articles of American Craft going back to 1991. You can search for articles by subject, author, date, and other parameters, or you might just want to peruse issues. If you want to know what magazines are currently being published in a given subject area, the periodical directories held in the Reference Department at the Central Branch are an invaluable resource.
As always, ask a Librarian in any of our Branches, or at the Central Reference Desk for assistance in finding what you need. Call Central Reference at 816-701-3433. It's what we're here for, and we love to help. Happy crafting!
About the Author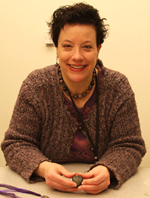 When she's not assisting customers in the Central Reference department, Jean Rivard DuFresne makes glass beads and designs jewelry, which she sells at riveroflight.etsy.com.  She also writes and is a voiceover artist.