For this month's Crafty Reads (a KC Unbound Blog series for people looking to take up new crafts and hobbies) we'll be exploring the Kansas City Public Library's resources for music performance and musical instruments. I'm pleased to report we have a good selection of materials! 
By the Book
Now, first things first – what if you don't already play an instrument, or perhaps you're helping your child find an instrument to learn? You might want to check out Which Musical Instrument Shall I Play, which describes string, woodwind, brass, percussion, and keyboard instruments, and outlines their importance in the production of various types of music. The Illustrated Encyclopedia of Musical Instruments: From All Eras and Regions of the World might also be a good place to start. You might also want to browse shelves in the 784.19 call number area at any Library location for general books on musical instruments. 
We own many titles on learning and playing specific instruments, for both beginner and more advanced players. For example, Knack Drums for Everyone by Carmine Appice is a step-by-step guide to equipment, beats, and basics. As a few other examples, we also own Piano Exercises for Dummies by David Pearl, Mastering the Guitar by William Bay, and Absolute Beginners Alto Saxophone, which includes a play-along CD. 
In a brief tour of the shelves at Central, I found a wide selection of piano instruction books in classical, jazz, and ragtime, and spotted instruction books for harmonica, accordion, violin, fiddle, trumpet, guitar, and more. I don't have room to discuss all of them here, so I strongly suggest doing a catalog search to find these titles and many more on other instruments scattered throughout our system. And never hesitate to ask a staff member to help you locate them!
A/V
The Library's Audio/Visual collection is a wonderful resource to utilize in your musical aspirations! I discovered that our Plaza Branch owns a DVD entitled The Way Things Work: Musical Instruments.  The Plaza Branch also owns the DVD The Acoustic Guitar Method, as well as an instructional DVD for accordion. Central Library owns the DVD Gregg Bissonette Musical Drumming in Different Styles. And if you still have a VCR, our Trails West Branch owns How to Play Piano, Tape 1 for Piano and Portable Keyboards.  
Remember: Just as with books, you can place a hold on any movie (or book, or CD) at any branch and have it transferred to the branch nearest you at no charge. An email notification will automatically be sent to you when it's ready to be picked up.
Also, our Audio/Visual collection is chock full of DVDs and CDs giving you a front row seat to the sights and sounds of some of the world's greatest musicians. 
For pianists, The Intimate Duke Ellington is a DVD available at Central, and guitarists will want to watch Les Paul, Live in Concert - currently on order for our Ruiz Branch. At Central, the DVD Harp Dreams: Inside the USA International Harp Competition, is described as "an entertaining, poignant, and beautifully musical glimpse into what it takes to become a world-class musician."  
On CD, we literally have thousands of titles featuring just about every instrument, musical style, and musician you can think of. Be bowled over by the genius of Miles Davis on trumpet, wowed by Little Walter on harmonica, and awed by Joshua Bell on violin, among so many others.
Sheet Music
Another collection to utilize is our Musical Scores, mostly located at the Central Library, but also scattered throughout the system. At Central, this collection is so large that it has its own "M" designation in the 780s call number area of the stacks.  Here, you'll find everything from The Big Book of Irish Songs: Piano, Vocal, Guitar, to the operatic vocal score, I puritani : melodramma serio in tre parti di Carlo Pepoli.
In addition to the "fake books" and musical scores, you will find many of the music instrument instructional books located in this area. Use an Advanced Search in the catalog, and (for example) enter "guitar" as a subject, and use the format drop down menu to limit your list to "sheet music," to locate materials relevant to your instrument. 
Or you may just want to leave the subject blank and limit the format to "sheet music" to browse the wealth of this fantastic collection. If you are the director of a community-based musical group, ask the Reference Desk about our Reference-only collection of scores, special sheet music, and our limited Performing Editions of scores. 
Magazines & More
And don't forget about the Library's periodicals and Proquest periodical database!  Central Library subscribes to the print editions of Guitar Player, Opera News, The Strad, Jazz Times, Downbeat, and for popular music news we carry Spin, Rolling Stone, and Mojo. And to find out locations of local venues, as well as dates and times of musical performances, we carry Kansas City Blues News, The Pitch, and The Kansas City Star.   
Lastly, for keyboard players, the Central Library offers a Clavinova, housed in one of our study rooms on the 4th floor! Donated by a generous patron, the Clavinova is a unique library item to be used for learning, practice, and fun. Check with the Reference Desk for details on using the Clavinova (with headphones, of course).   
As you can see, the Kansas City Public Library has much to offer to get you started and keep you happily making music for a lifetime. Happy picking! Or strumming, or drumming, or singing, or bowing…
About the Author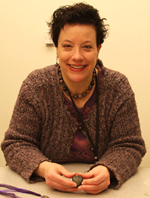 When she's not assisting customers in the Central Reference department, Jean Rivard DuFresne makes glass beads and designs jewelry, which she sells at riveroflight.etsy.com. She also writes and is a voiceover artist.
More crafty reading from Jean:
How to Use the Library to Get Started in Jewelry Making