The Kansas City Public Library has ample resources for the art and craft of writing. Whether you want to craft your first romance novel, construe a personal memoir, or piece together a modern political treatise, you will find plenty of books about writing books in the library, scattered throughout the 800 call number area, in all of our branches.
Use our catalog to find titles such as How to Write Mysteries, by Shannon O'Cork, and Writing Fantasy & Science Fiction, and Getting Published, by Brian Stableford. Doing a keyword search on your genre of choice, i.e., "screenplay writing," will yield plenty of titles in such categories as romance, science, plays, short stories, poetry, essays, novels and more.
And because many great writers attest that the real writing gets done in the revision process, read Revision: A Creative Approach to Writing and Rewriting Fiction, by David Kaplan. If you're having trouble starting or finishing a project, you might try The 101 Habits of Highly Successful Novelists: Insider Secrets from Top Writers, by Andrew McAleer. If you want to win an Oscar by writing the next "Butch Cassidy and the Sundance Kid," then the classic Screenplay: The Foundations of Screenwriting by Syd Field is a book worth placing on hold and waiting for.
Writers continually read and learn from other writers' work, so you might also want to check out William Goldman: Five Screenplays, With Essays, by William Goldman. (William Goldman, I might add, is the Oscar winning screenplay writer of Butch Cassidy and the Sundance Kid.) We also have numerous Best American collections, such as the Best American Sports Writing, 2010, edited by Glenn Stout, Best Music Writing, 2010, edited by Ann Powers, The Best American Essays, 2010, edited by Christopher Hitchens, and The Best American Mystery Stories, 2010 edited by Lee Child. And of course, we have our enormous collection of both classic and more popular titles in both fiction and non-fiction.
In addition to our large circulating collections, don't forget about our specialty collections in the Missouri Valley Special Collections for historical and local research, as well as the numerous research resources, including periodical microfilm, encyclopedias, and databases in the Central Reference Department.
Strictly speaking, in terms of literature themed databases, we have the Literature Resource Center, as well as NoveList, and the ever useful ProQuest periodical database. To access these free databases for free with a library card, either from home or at the Library, go to the databases list and search alphabetically or by topic.
We also carry various literary print magazines, including The Writer, Writer's Digest, Fiction, The Missouri Review, and The Paris Review. But depending on the research you might be doing, we have many other databases, periodicals, and books.
For example, one Reference Department resource you might not have considered are the wonderful specialty dictionaries which are great aids for writers looking to liven up or lend authenticity to their work and characters. For example, the NTC's Thematic Dictionary of American Slang presents slang terms arranged by topic – basically a slang thesaurus. Or consider the Dictionary of American Regional English; did you know that in some places in the Ozarks, a "gowrow" refers to a fabulous monster? And A Dictionary of Gods and Goddesses, Devils and Demons might help you in your inspiration and research for the latest and greatest supernatural thriller.
Oh, and don't forget to avoid those dreaded clichés by using the Facts on File Dictionary of Clichés. Also, please ignore that the term "dreaded cliché" is a cliché.
The Kansas City Public Library also has a growing selection of e-books which can be downloaded to your computer or e-reader, or also read online. I came across an e-book copy of Writing Historical Fiction: How to Create Authentic Historical Fiction and Get it Published, by Marina Oliver, which is available only in electronic format, via NetLibrary. As e-books constitute a new delivery mode for the written word, writers and would-be writers would do well to familiarize themselves with this burgeoning technology.  
One side note about the electronic books: I sometimes get calls from customers who have brought up an electronic title in the catalog that they are not allowed to download. This is often because the title belongs to one of our consortium libraries, and not to Kansas City Public Library proper. Unfortunately, the borrowing privileges for print books with our consortium libraries does not currently extend to the electronic items. So when you bring up an electronic title, make sure the holding is for Kansas City Public Library.
And as always, ask a Librarian for assistance whenever needed!
In conclusion:
"A man will turn over half a library to make one book." – Samuel Johnson
And there you have it. The better writer said it all in one line.
The End
About the Author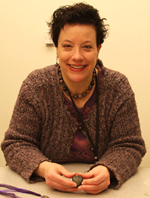 When she's not assisting customers in the Central Reference department, Jean Rivard DuFresne makes glass beads and designs jewelry, which she sells at riveroflight.etsy.com. She also writes and is a voiceover artist.
More crafty reading from Jean:
How to Use the Library to Get Started in Jewelry Making
How to Research Your Music-Playing Hobby
How to Start Stitching at the Library