Post date:
Wednesday, April 25, 2012
When the Pulitzer Prize board failed to award a prize for fiction this year, we came up with one of our own, the Publitzer Prize. This week, we're letting you – the public – nominate potential finalists.  But first, our team of expert jurors will share their official Publitzer nominations.
Last week, when the Pulitzer board failed to reach a majority vote, three finalists were summarily stiffed: The Pale King by David Foster Wallace, Train Dreams by Denis Johnson, and Swamplandia by Karen Russell.
To make up for the Pulitzerian failure, we're asking  you to nominate your favorite fiction book from 2011 to enter the running for the Publitzer Prize. (Nominate now.)
Because any good fiction contest needs guidance from the experts, we've assembled a top-notch team of local literati to help direct the proceedings: Steve Paul of The Kansas City Star, Scott Wilson of The Pitch, novelist Whitney Terrell (New Letters writer-in-residence at UMKC), and our own Kaite Mediatore Stover, Director of Readers' Services.
Send in your nomination by noon on Friday, April 27, 2012. Then, our jurors will choose three finalists, which will be put to your vote beginning Monday, April 30; and on Wednesday, May 2, the Publitzer winner will be named.
Here now, to offer up his personal pick from the past year is Whitney Terrell, New Letters Writer-in-Residence at UMKC and author of the novels The Huntsman and The King of Kings County.
Juror: Whitney Terrell
Nomination: The Marriage Plot, Jeffrey Eugenides

Eugenides' novel follows a trio of 1980s students through college and out into the world.  The book is arguably riskier than his last novel, Middlesex, which won the real Pulitzer prize. In that earlier novel, Eugenides' protagonist was a hermaphrodite and outsider, engaged in telling the story of her (his) family's immigration into the United States.  In The Marriage Plot, his heroine Madeline Brand is a classic insider:  a preppy intellectual from a good, WASP family who ends up falling in love with Leonard Bankhead, a mercurial but brilliant biology major.  In American literature, characters with Madeline's background are usually played for laughs –  if not turned into villains.  But the triumph of Eugenides' novel is that he never judges Madeline, nor does he trivialize his characters' inner lives and concerns.  The result is a beautiful and extremely compelling portrait of college and post-college life that ranges in setting from Brown University to Calcutta, without ever losing its precision or its spirit of inquiry.

-- W.T.
Be sure to submit your Publitzer pick by noon on Friday, April 27.
Writers at Work Event:
Catch Whitney in person tomorrow night, Thursday, April 26, at 6:30 p.m. in the Central Library, where he will host a public conversation with Adam Johnson, author of the dystopian novel The Orphan Master's Son, as part of the Writers at Work Series. (RSVP to attend.)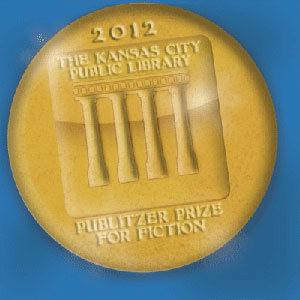 Click to Cast Your Nomination for the 2012 Publitzer Prize for Fiction
Other Jurors' Nominations:
Kaite Stover - Salvage the Bones
Scott Wilson - Long, Last, Happy
Steve Paul - Open City
Publitzer Video: Crosby Kemper III on freeing the fiction.
About the Publitzer Coordinator
Jason Harper is the web content developer and social media manager at the Kansas City Public Library.