When the Pulitzer Prize board announced that there was no fiction winner this year, we came up with an award of our own: The Publitzer Prize. This week, we're letting you – the public – nominate potential finalists. But first, our jurors share their official Publitzer nominations.
Quick re-cap: As true fictionados like you already know, last week the Pulitzer board announced that due to a deadlock in voting, no fiction prize could be awarded in this year's awards. Three finalists were summarily stiffed: The Pale King by David Foster Wallace, Train Dreams by Denis Johnson, and Swamplandia by Karen Russell.
As the literary world looks back in anger, we're asking you to make up for the Pulitzer committee's failure by nominating your favorite book from 2011 to compete in a vote to determine the winner of the 2012 Publitzer Prize. (Nomination Form)
Now, because any good literary prize needs guidance from the experts, we've assembled a top-notch team of local literati to help direct the proceedings: Steve Paul of The Kansas City Star, Scott Wilson of The Pitch, novelist Whitney Terrell (New Letters writer-in-residence at UMKC), and our own Kaite Mediatore Stover, Director of Readers' Services.
After you send in your nominations this week, our four jurors will deliberate and draw up a list of three finalists, which you will vote on beginning Monday, April 30, 2012. On Wednesday, May 2, 2012, the winner of the first-ever Publitzer Prize for Fiction will be announced.
Meanwhile, the jurors have nominations of their own to make. These books aren't necessarily the finalists, mind you – just books for you to consider as you decide on your choice.
Here now, to offer up her favorite fiction from the past year is Kaite Mediatore Stover, leader of the FYI Book Club and readers' advisory expert at the Library.
Juror: Kaite Mediatore Stover
Nomination: Salvage the Bones, Jesmyn Ward

How do I know it wasn't, as Ann Patchett feared, a "bum year for fiction?" Because a gut-wrenching, eloquent, tragic and inspiring novel about a family from Louisiana riding out the horrors of Hurricane Katrina wasn't a finalist for the 2012 Pulitzer Prize for fiction.

If Jesmyn Ward's 2011 National Book Award-winning Salvage the Bones wasn't a contender, then the finalists that were in the running for one of literature's most prestigious and coveted prizes had to be transcendent, exemplary, superior, and a host of other adjectives there's a shortage of time and space to list here.

However, I would like to call the Pulitzer (and Publitzer) jurors' attention to this powerfully written and moving story of Esch, the only daughter in a family preparing for the arrival of the hurricane that would change lives and landscapes and ruin fortunes and hearts.

In 12 chapters representing 12 days leading up to Hurricane Katrina, Ward carefully unpacks a story full of the hope and determination that drive youthful ambitions, no matter what size, and the bonds of a family that appear to be tenuously connected to each other, until these ties are tested by more than hurricane-force winds and water.

As unforgettable as the devastations of Hurricane Katrina may have been, Salvage the Bones is equally memorable for the layered characters, tense pacing, and assured prose.

– K.M.S.
There you have it. But don't take Kaite's word for it – check out Salvage the Bones yourself, and tender your nomination now for the first-ever Publitzer Prize for Fiction.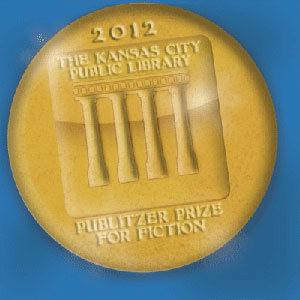 Click to Cast Your Nomination for the 2012 Publitzer Prize for Fiction
Other Jurors' Nominations:
Scott Wilson - Long, Last, Happy
Whitney Terrell - The Marriage Plot
Steve Paul - Open City
Publitzer Video: Crosby Kemper III on freeing the fiction.
About the Author
Jason Harper is the web content developer and social media manager at the Kansas City Public Library.