It's not a musical, exactly, but Ntozake Shange's For Colored Girls Who Have Considered Suicide When the Rainbow Is Enuf is a hugely musical experience.
"There's a musicality behind the words, a musical feel," said Donette Coleman, who'll be on stage for a free performance of the play at 2 p.m. Sunday, April 22 at the Kansas City Public Library's L.H. Bluford Branch, 3050 Prospect.
"It's taken me a couple of rehearsals to recognize it. We're not actually singing the poems, but the rhythm of the spoken words is very, very musical."
Featuring a local cast and director, the event is a reprise of the 2009 Metropolitan Ensemble Theatre production that played at the Library's Plaza and Bluford branches.
Shange described her play as a "choreopoem." Seven actresses portray 20 characters delivering monologues about the lives of African American women.
The play is "a gloriously unsentimental Valentine to women of color," according to Karen Paisley, who is directing this Script-in-Hand production.
"It is a celebration of being. It deals with joy, hurt, discovery, sexuality, children, consequences, anger, hope, growing up, feeling put down, rising, getting stronger, tougher, being better, loving men ... and knowing some men who are disappointments."
But if the material is sometimes difficult and downbeat, the musicality of Shange's words proves uplifting, according to Coleman and fellow actress Sherrie Roulette-Mosley.
That experience, they said, confirmed the playwright's keen insights into human experience and psychology.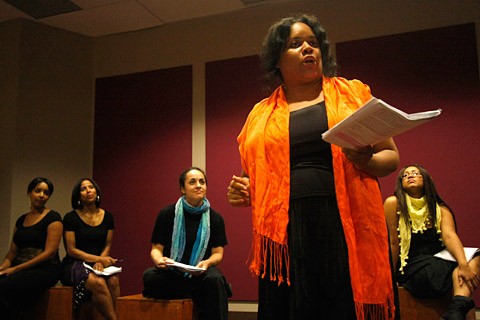 "When we last did this show there was a curious reaction," Coleman said. "The play deals with some pretty heavy topics – abortion, domestic violence, things like that – and the initial reaction of some women in the audience is that of outsiders looking in.
"They're saying to themselves, 'Thank goodness that's not my life but, oh, how terrible it must be.'
"But what you see as the play goes on is that audience members are really reacting to some of this. In this show you will find pieces of every woman's experience. So you will have audience members who want to pretend that things like this have never happened to them. But during the performance you can look out at their faces and see a true gut reaction to the material.
"You know it's hitting a very personal spot."
Roulette-Mosley said the reactions of the Bluford audience, which was overwhelmingly African American, was particularly intense.
"People react to this material no matter where you do it because it's very universal," she said. "All relationships go up and down. But there was definitely a more intense connection with the Bluford audience because the material is so specifically African American."
While For Colored Girls... was never conceived as a musical, during 30 years of productions directors have toyed with inserting real music. Paisley uses pre-recorded music as a bridge between individual monologues, and at the end of the show all the cast members join in an a capella version of a song written by area resident Jackie Gafford.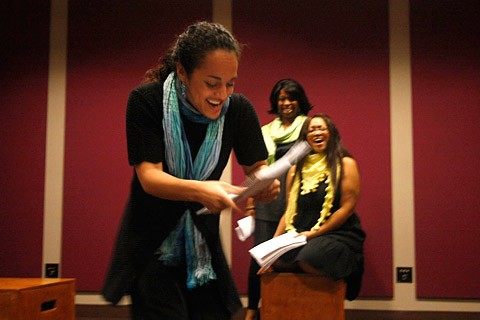 It's one of the relatively few moments in the play when the seven actresses are working together. Usually one actress is speaking while the others sit in the background.
"That can get a little frustrating," Coleman said. "I like to play with other actors, to give and take. Sometimes if you're doing a monologue it can be a little sad and lonely.
"But Karen allows us these moments when the main girl – whoever is speaking – will turn around and connect with the other women."
Roulette-Mosley agrees that being able to turn to the other actors on stage is satisfying: "It lets us feel we're playing off one another. Even though each character is talking from a different city, Karen allows us to acknowledge each other. It's almost as if we're a group of women sitting and talking in a room."
During the course of the play each actress gets two or three monologues.
"What's great about that is that everyone gets at least one really good show-stopper," Roulette-Mosley said. "Everybody looks forward to performing their one especially juicy poem."
About the Author
Robert W. Butler is a lifelong Kansas City area resident, a graduate of Shawnee Mission East High School and the William Allen White School of Journalism at the University of Kansas. For several decades he was the movie editor of the Kansas City Star; he now writes the Library's From the Film Vault blog. He joined the Library's Public Affairs team in 2012.