Some people look at big cities and see dirty streets, crowded subway cars, and muggers lurking around every falafel truck. But Harvard economist and author Edward Glaeser sees the American metropolis as more innovative, greener, and healthier than the leafy suburb.
Glaeser's new book, Triumph of the City : How our Greatest Invention Makes Us Richer, Smarter, Greener, Healthier, and Happier shatters many myths about American cities.
For one thing, the human density of big cities drives innovation and competition – the more people, the more possibility for change and growth, Glaeser argues.
"Cities play to mankind's greatest asset, which is being able to learn from each other face to face," Glaeser recently said on The Daily Show with Jon Stewart.
Glaeser finds that far from being plagued by crime and filth, people in big cities are healthier and wealthier than other Americans, and they use 40 percent less energy than their suburban counterparts.
Whether you live in the metro's outer reaches or the heart of downtown, make the commute to a public conversation with Edward Glaeser and Library Director Crosby Kemper III on Wednesday, May 25, 2011, at the Central Library, 6:30 p.m. Parking and admission are free; please RSVP to attend. The conversation is part of the Kansas City Public Library's What Makes a Great City? series, which continues on June 23 with Larry Bennett, author of The Third City: Chicago and American Urbanism.
In the meantime, here are 11 other skyscraping reads about the history, culture, and architecture of American cities. (Glaeser's book will be for sale at the event.) Tip: If any of the below books aren't available at a Library location near you, simply click "Hold" to have the book delivered to your branch of choice.
10 Books about American Cities
(Book descriptions provided by Syndetics.)
The Death and Life of Great American Cities by Jane Jacobs (1961)
In prose of outstanding immediacy, Jane Jacobs writes about what makes streets safe or unsafe; about what constitutes a neighborhood, and what function it serves within the larger organism of the city; about why some neighborhoods remain impoverished while others regenerate themselves. She writes about the salutary role of funeral parlors and tenement windows, the dangers of too much development money and too little diversity.
Wrestling with Moses: How Jane Jacobs Took on New York's Master Builder and Transformed the American City by Anthony Flint (2010)
To a young Jane Jacobs, Greenwich Village, with its winding cobblestone streets and diverse makeup, was everything a city neighborhood should be. The activist, writer, and mother of three grew so fond of her bustling community that it became a touchstone for her landmark book, The Death and Life of Great American Cities. But consummate power broker Robert Moses, the father of many of New York's most monumental development projects, saw things differently: neighborhoods such as Greenwich Village were badly in need of "urban renewal." In Wrestling with Moses, acclaimed reporter and urban planning policy expert Anthony Flint recounts this thrilling David-and-Goliath story, the legacy of which echoes through our society today. Bonus Listen: Get the complete audio of Flint's presentation at the Central Library on June 16, 2010.
Bowling Alone: The Collapse and Revival of American Community by Robert Putnam (2000)
Once we bowled in leagues, usually after work; but no longer. This seemingly small phenomenon symbolizes a significant social change that Robert Putnam has identified and describes in this brilliant volume. Putnam shows how social bonds are the most powerful predictor of life satisfaction. For example, he reports that getting married is the equivalent of quadrupling your income and attending a club meeting regularly is the equivalent of doubling your income.
City Life: Urban Expectations in a New World by Witold Rybczynski (1995)
In this sweeping cultural history, the author of Home and The Most Beautiful House in the World traces the development of American cities and city life from the early colonial settlements to the new downtowns of skyscrapers and high-rise apartment buildings. "A fascinating investigation of what cities – especially modern cities – should be like." -- Roger Starr, The Wall Street Journal
Design of Cities by Edmund N. Bacon (1974)
In a brilliant synthesis of words and pictures, Edmund N. Bacon relates historical examples to modern principles of urban planning. He vividly demonstrates how the work of great architects and planners of the past can influence subsequent development and be continued by later generations. By illuminating the historical background of urban design, Bacon also shows us the fundamental forces and considerations that determine the form of a great city.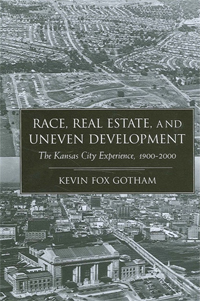 Race, Real Estate, and Uneven Development: The Kansas City Experience, 1900-2000 by Kevin Fox Gotham (2002)
Once reliant on restrictive covenants, real estate interests in the 1920s and 1930s engaged federal mortgage insurance policies, state and local land use laws, and bank lending practices to support their discriminatory inclinations. Concurrently, they created a racialized ideology that associated race with neighborhood quality. When this ideology combined with local school districting policies after WW II, hypersegregation resulted. Such practices became so institutionally embedded that even the fair housing efforts and Civil Rights Movement of the 1960s did little to change them. This powerful argument is made more convincing by Gotham's richly documented case study of real estate practices and hypersegregation in Kansas City.
On Architecture: Collected Reflections on a Century of Change by Ada Louise Huxtable (2008)
In her most recent collection—which gathers together the best of her writing, from one of her first pieces in the New York Times in 1962 on le Corbusier's Carpenter Center at Harvard, to essays in the New York Review of Books, to more recent writing in the Wall Street Journal—Huxtable bears witness to some of the twentieth century's best—and worst—architectural masters and projects.
Design Like You Give a Damn: Architectural Responses to Humanitarian Crisis by Architecture for Humanity (2006)
Since it was founded in 1999, Architecture for Humanity has provided critical design support on a number of projects, including mine clearance programs and playground building in the Balkans; earthquake recovery in Bam, Iran; and the reconstruction of Kirinda, Sri Lanka, in the wake of the devastating tsunami of December 2004.
The Essential Frank Lloyd Wright: Critical Writings on Architecture (2008)
He was the most iconoclastic of architects, and at the height of his career, his output of writings about architecture was as prolific and visionary as his architecture itself. Frank Lloyd Wright pioneered a bold new kind of architecture, one in which the spirit of modern man truly "lived in his buildings. The Essential Frank Lloyd Wright is a one-volume compendium of Wright's most critically important – and personally revealing – writings on every conceivable aspect of his craft.
The Regional City: Planning for the End of Sprawl by Peter Calthorpe and William Fulton (2000)
Authors of The Next American Metropolis and The Reluctant Metropolis, respectively, Calthorpe and Fulton argue that the design of our current metropolitan regions – inner cities surrounded by rings of isolated suburbs filled with malls and office parks – has placed our remaining land at considerable risk and exacerbates the divide between the rich and the poor.
The Metropolitan Frontier: Cities in the Modern American West by Carl Abbott (1993)
Abbott ranges from Honolulu to Houston and Fargo to Fairbanks to show how the cities in the western U.S. organize the vast spaces and connect them to the larger world economy. Going back to the boom of the 1940s, he traces how economic change has been reflected in social and political responses, and their impact on the environment and on regional and national identity.
What are your essential reads about the American (or world) metropolis? How do you feel about living in the city versus living in the suburbs? Share your thoughts in the comments below.
-- Jason Harper