Post date:
Tuesday, February 21, 2012
Rebecca Solnit's interests are all over the map: art, landscape, public and collective life, ecology, politics, hope.
She's written a book about how people deal with widespread disaster. Another is about walking.
Among her titles are A Field Guide to Getting Lost, Hope in the Dark: Untold Histories, Wild Possibilities and As Eve Said to the Serpent: On Landscape, Gender and Art.
But Solnit's Infinite City is more than all over the map. It's literally filled with maps of her native San Francisco – maps that allow residents and visitors alike to discover a wealth of meanings beneath the usual grids of streets and neighborhoods.
"I'm a big fan of maps," Solnit says. "I have old atlases from used book sales. I think a lot about life in term of maps. With Infinite City suddenly everything came together."
Solnit discusses her different kind of atlas on Tuesday, February 28, 2012 at 6:30 p.m. in the Central Library, 14 W. 10th St.
For instance, among Infinite City's maps is one that traces the Bay Area's status as a "conservative/military brain trust." It pinpoints not only military bases but hot spots important to what was once called the military-industrial complex: the Lawrence Livermore National Laboratory where nuclear bombs were designed; Bohemian Grove, site of the annual gathering of conservative power brokers; even the Berkeley Law School, current employer of John Yoo, architect of the Bush administration's torture policy.
A map called Cinema City highlights locations important to the story of Eadweard Muybridge, whose 1870s experiments with sequential photography were a precursor to the motion picture, as well as shooting locations made immortal in Alfred Hitchcock's film Vertigo.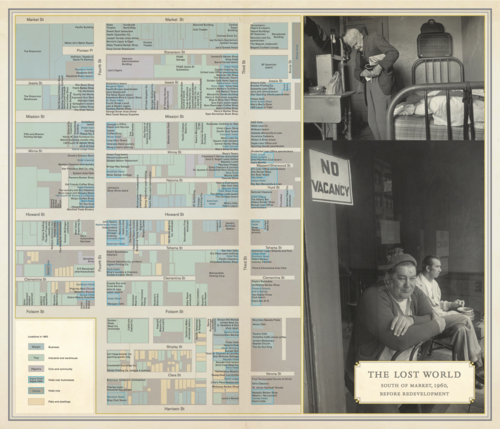 There are maps in Infinite City concentrating on coffee houses, shipyards, murder locations, the Mission and Fillmore districts, urban renewal and even environmental danger zones where a resident is likely to get a good dose of plutonium or mercury.
One map titled Monarchs and Queens pinpoints sites important to both the gay community and the city's butterfly population.
Each map is accompanied by an essay in which Solnit examines the themes revealed.
Creating Infinite City with a small army of designers, artists, and cartographers has been a revelation, Solnit said.
"I've lived in the Bay Area since I was four and I walk a lot. So I figured I knew the city pretty well.
"But I took out an ordinary road map and realized I hadn't seen half of San Francisco.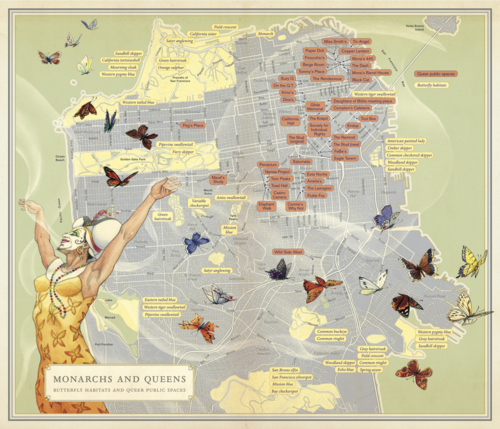 "When you start mapping you see patterns and relationships you hadn't realized before. For example, I got very involved in butterflies and went on my first butterfly walk. Not only is San Francisco a stop for migratory species like the Monarch, but it has species unique to the peninsula, like the Green Hairstreak.
"I had no idea that this particular hill in western San Francisco was filled with these beautiful flying emeralds."
Making the atlas was an education in more ways than one. Writing is usually a solitary task, but for Infinite City Solnit surrounded herself with collaborators.
"I'm not a mapmaker, an artist, or a designer. There's not just my name on the title page. There are 27 people listed there.
"To create this book I collected a good cross section of San Francisco and got to know a lot of different people's passions, knowledge, neighborhoods. I've been enthused and reasonably informed about this place, but this book gave me a much deeper knowledge."
Solnit sees the atlas as just the beginning.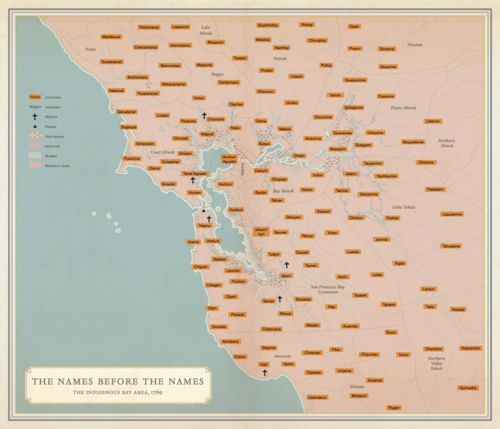 "It's called Infinite City not because with 22 maps we've been able to cover it all. It's just a provocation, just a starting point. It's an introduction to how densely faceted and multilayered the city is."
Solnit would like to do "infinite" atlases on other major cities, including Kansas City. All metropolitan areas have pasts and presents that lend themselves to this sort of treatment, she maintains.
"I've already talked about doing atlases on New York City and New Orleans. I've also concluded that these are perfect projects for universities to get involved in, since they tap just about every department and field in a university."
Solnit stresses, however, that while she might oversee additional atlases, she'll stand back and let the local folk do much of the heavy lifting.
"Rule No. 1 is that I'm not going to write an atlas for a place I don't live in. My job would be figuring out who to assign to write the essays, what sorts of things to map. It's all a collaboration."
About the Author
Robert W. Butler is a lifelong Kansas City area resident, a graduate of Shawnee Mission East High School and the William Allen White School of Journalism at the University of Kansas. For several decades he was the movie editor of the Kansas City Star; he now writes the Library's From the Film Vault blog. He joined the Library's Public Affairs team in 2012.