Post date:
Wednesday, February 29, 2012
If you're going to write about Winston Churchill – the subject of more history books than almost any other 20th century figure – it's best to explore a tiny slice of his story. Maybe by looking closely you'll find something other historians have overlooked.
Philip White has discovered lots of overlooked history in his book Our Supreme Task: How Winston Churchill's Iron Curtain Speech Defined the Cold War Alliance, which he discusses on Wednesday, March 7, 2012, at 6:30 p.m. at the Central Library.
"When it comes to broad strokes, most everything has already been written about Churchill," says White, 30, who was born in Dorset in England and now lectures at MidAmerica Nazarene University in Olathe.
"But in my case I narrowed it down to one event – the famous 'Iron Curtain' speech he gave in Fulton, Missouri, in March, 1946 – and that opened up lots of possibilities.
"First, what was it like for this person who had been a figurehead of Western democracy to find himself out of office and at loose ends? And, second, how did he interact not just with Harry Truman but with the ordinary folks he met in the American Midwest?
"He was a person just like we are, and for all the myths surrounding him this is a story about people interacting with people."
In 1946 Churchill was widely regarded as a political has-been. After leading his country to victory in World War II, he saw his Conservative Party go down in flames at the polls.
"Here was a man who had won the war and had a million people in the streets chanting his name," White says. "And several weeks later he not only was voted out of office, it was the second worst defeat in Conservative Party history. The shock sent him into a tailspin. He was telling people he was finished."
Meanwhile in Missouri, Franc McCluer, president of Westminster College, decided to extend to Churchill an invitation to deliver an annual campus lecture on world events. He went to Washington D.C. to enlist the aid of an old classmate and Westminster alumnus, Harry Vaughan, a member of President Harry Truman's inner circle.
Vaughan liked the idea and, discovering an empty slot in the President's schedule, led McCluer into the Oval Office where Truman read his invitation to Churchill, wrote something on the bottom and announced, "Now, you send him that."
The President's message: "This is a wonderful school in my home state. Hope you can do it. I'll introduce you. Best Regards, Harry Truman."
"I don't think Churchill would have done it if not for that message from Harry Truman," White said. "He received dozens of invitations every week. His secretaries went through them weeding out everything not worthy of his time. If they presented Churchill with a time waster he'd berate them, throw it back at them.
"But here was a letter sent through U.S. State Department mail. That one got through."
A speech about world events dovetailed nicely with Churchill's post-war preoccupations.
"Once Churchill started to clear his head after the election defeat, he began looking for an issue that could motivate him," White says. "He found one in the stark contrast between the free democratic principles of the West and the new totalitarian threat from the Soviet Union."
In the wake of the war the West was taking it easy, basking in the warm glow of peace.
But Churchill noticed that communism wasn't resting. Rather, it was on the march. The people of Bulgaria, Romania, Yugoslavia, and Poland found themselves in the Soviet grip. The Red Army occupied a large chunk of Germany and the Kremlin was manipulating post-war food shortages, labor disputes, and social unrest in Greece, France, and Italy.
Churchill began writing what officially was titled the Sinews of Peace speech, though today nobody calls it by that name.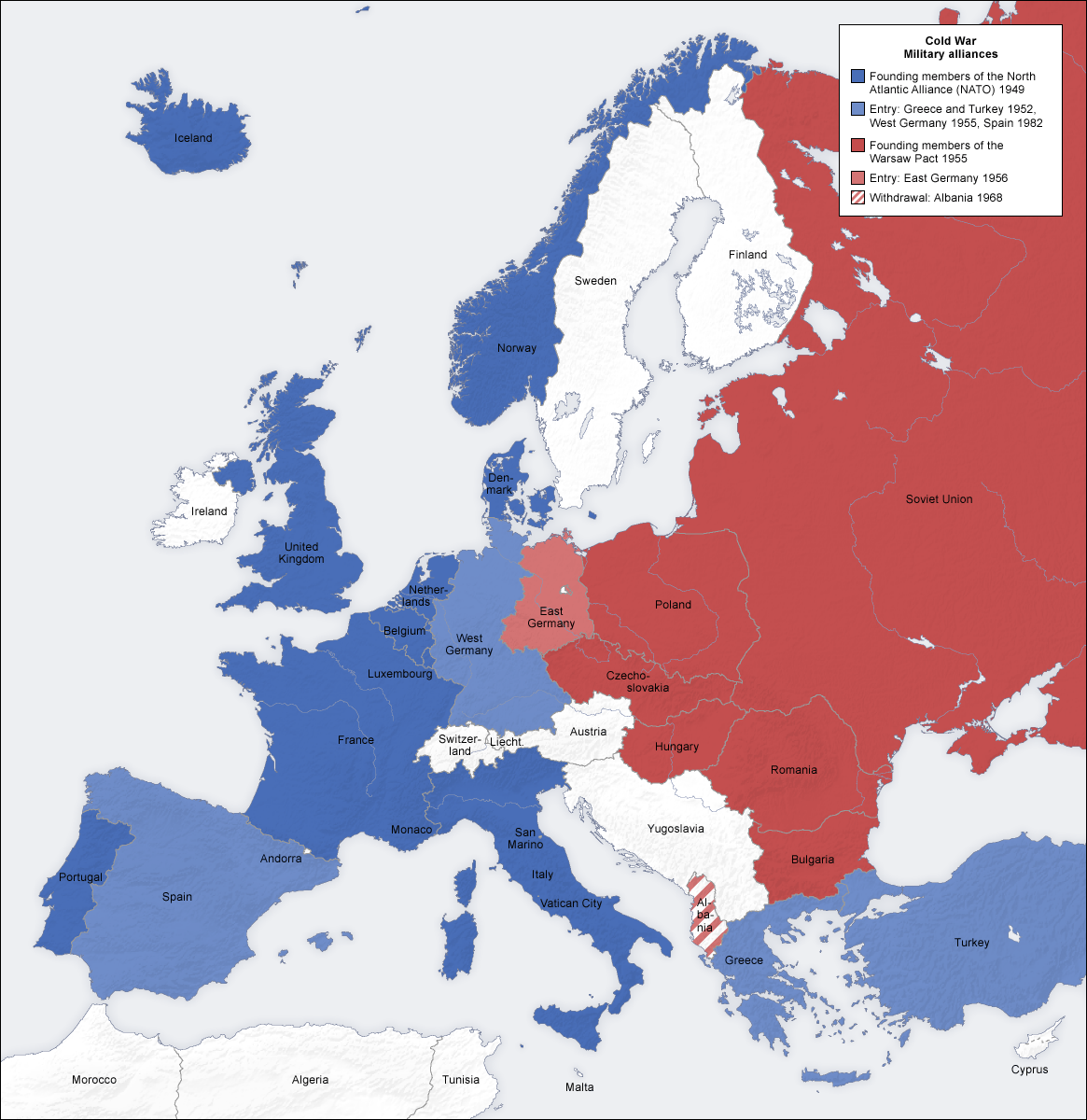 Rather, the speech is famous for introducing to the world the phrase "iron curtain" to describe the divide between democracy and totalitarianism:
"From Stettin in the Baltic to Trieste in the Adriactic an iron curtain has descended across the continent. Behind that line lie all the capitals of the ancient states of Central and Eastern Europe. Warsaw, Berlin, Prague, Vienna, Budapest, Belgrade, Bucharest, and Sofia; all these famous cities and the populations around them lie in what I must call the Soviet sphere, and all are subject, in one form or another, not only to Soviet influence but to a very high and in some cases increasing measure of control from Moscow."
"Churchill spent more time preparing and honing this speech than any other he ever gave. He didn't have a team of speechwriters. He did it himself. And I think he probably smiled to himself when he thought about the reactions it would provoke," White says.
Weary of war, the Western democracies were looking forward to an era of peace and prosperity. But here was Churchill telling them that though one war had ended, another was just beginning between the West and her former ally, the Soviet Union.
"We live in a world where opinion polls shape the narrative of political debate, but Churchill had never been concerned with that," White says. "To him leadership was being willing to say what needed to be said that nobody else would say.
"In making this speech Churchill wasn't just risking becoming unpopular. He knew what he said would be unpopular."
Many viewed the speech as belligerent. Churchill was called an imperialist and a war monger.
Truman later said that he hadn't read Churchill's speech in advance and that he was as surprised as anyone by its tone.
"I think they just cooked that up," White says.
"Almost everyone in Truman's inner circle agreed with Churchill and knew that this was the way things were going. Truman even said, 'I'm tiring of babying the Soviets.'
"And the following summer he introduced the Truman Doctrine of communist containment, which led to the Cold War."
Truman cannily allowed Churchill to take the heat for making an unpopular case.
White fears that even his own countrymen are forgetting just how monumental a figure Churchill is.
"To a great extent he still permeates the culture, but it's troubling ... I remember reading a disturbing report in the Times or Daily Telegraph that two-thirds of high school students in Britain thought Churchill was a mythical figure whereas Gandalf was real.
"At the time it struck me as a legitimate survey. I hope it was actually tongue in cheek."
Admission to White's talk is free. A 6 p.m. reception precedes the event. RSVP online or call 816.701.3407. Free parking is available at the Library District Parking Garage at 10th & Baltimore.
The event is co-sponsored by Westminster College, the National Churchill Museum, and MidAmerica Nazarene University.
About the Author
Robert W. Butler is a lifelong Kansas City area resident, a graduate of Shawnee Mission East High School and the William Allen White School of Journalism at the University of Kansas. For several decades he was the movie editor of the Kansas City Star; he now writes the Library's From the Film Vault blog. He joined the Library's Public Affairs team in 2012.