During the winter months Paul Benson holes up in his conservation studio atop the Nelson-Atkins Museum of Art.
But beginning in April he packs up his tools and heads out to the fresh air and sunshine.
It's fountain-fixing time.
One of the specialities practiced by Benson, an associate conservator of objects at the Nelson-Atkins, is the preservation and maintenance of the many fountains that dot our urban landscape and have earned Kansas City the nickname "The City of Fountains."
He'll talk about his work on those fountains, their histories, and their many pleasures in City of Fountains: Underneath the Water and Sculpture on Thursday, March 29, 2012, at the Plaza Branch, 4801 Main St. RSVP online or call 816.701.3407.
Benson's presentation is part of the Kansas City Symphony's City of Fountains Celebration. The symphony has commissioned and this season is premiering three works inspired by the city's fountains: Chen Yi's Fountains of K.C., Daniel Kellogg's Water Music, and Stephen Hartke's Muse of Missouri.
Sharing the stage with Benson will be Michael Stern, the Symphony's musical director, and clarinetists Raymond Santos and Boris Allakhverdyan, who will perform the Conversations passage from Kellogg's piece, which gets its world premiere by the Symphony on March 30, 31, and April 1 in Helzberg Hall at the Kauffman Center for the Performing Arts.
Water, of course, is what makes our fountains so eye-pleasing and refreshing. Unfortunately, water is also their greatest enemy.
"Even though it may be made of bronze or stone, a fountain is always in contact with water, and water is one of the most corrosive things out there," Benson says. "It will erode stone and metal.
"And water quality is important, too. It's not one of those things where you turn on the water every spring and forget about it. Water holds organisms and chemicals. It can make algae grow on sculptures. It can create rust stains. It can deposit lime so that you get the same sort of buildup you get on your tap at home.
"So a lot of fountain maintenance takes place behind the scenes where you can't see it. You've got water quality experts who take measures to prevent that from happening."
Benson has replaced broken pieces of marble and used chemicals to dissolve calcium buildup.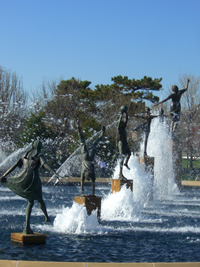 His job is to take care of a fountain's artistic elements: the sculptures or stone or metal surfaces that are seen by the public.
"The pipes, plumbing, and lights are done by somebody else," he explains. "So what I do must be coordinated with the people in charge of maintaining the fountains, whether a city or a private individual."
For many years Benson has contracted to do all the fountain maintenance for the city of Mission Hills. But he's often called in to work on fountains all over the metropolitan area.
For instance, in recent months he has been involved in an effort to replace a long-lost element of one of the city's most famous and iconic fountains. He's keeping mum about the details until he makes his presentation.
So...what, exactly, is a conservator of objects?
"Well, in the conversation field most people have specialties. Some are experts in paintings, textiles, works on paper. When you're an objects conservator you find yourself handling everything from a bronze object to a feather."
Benson does most of the work on the Nelson-Atkins' American Indian collection, which means he's an expert on leather.
He notes that there are no undergraduate degrees in art conservation. There are only graduate programs – and there are only four in the United States: at the University of Delaware, at New York State University at Buffalo, at New York University and at the University of California-Los Angeles.
"To make the field even more competitive, each of those programs takes a maximum of 10 new students every year."
Benton studied conservation at University College, London, where he spent his summers working at the British Museum and did jobs for private conservators.
"We worked on the chandeliers in the Lord Mayor's office. And for one job we had to drive out to this boys school where the kids had started a fire. We worked on tiles from fireplaces, removed railings and boards that had been damaged."
"It's hard to get away from your works sometimes," Benson says. "When I go to a museum I find myself looking less at the art than at how it is displayed, how it's mounted, the lighting ... and I sometimes find myself wishing they'd done it differently."
About the Author
Robert W. Butler is a lifelong Kansas City area resident, a graduate of Shawnee Mission East High School and the William Allen White School of Journalism at the University of Kansas. For several decades he was the movie editor of the Kansas City Star; he now writes the Library's From the Film Vault blog. He joined the Library's Public Affairs team in 2012.