Post date:
Wednesday, April 18, 2012
For Kansas City author Linda Rodriguez, the distance between literary writing like poetry and popular writing like mystery fiction is no further than the width of her desk.
The author of two acclaimed books of poetry, Skin Hunger and Heart's Migration, Rodriguez is awaiting the arrival in stores this month of her first detective novel.
Every Last Secret is about Marquitta "Skeet" Bannion, formerly the highest-ranking woman in the Kansas City Police Department, who takes a job running the campus cops at a college just a few miles from the big city.
The book arrives having already won top honors in the Malice Domestic Best First Traditional Mystery Novel competition.
Rodriguez will discuss and read from Every Last Secret on Tuesday, April 24, at 6:30 p.m. at the Central Library, 14 W. 10th St.
Admission is free. The event will be preceded by a 6 p.m. reception. RSVP online or call 816.701.3407. Free parking is available at the Library District Parking Garage at 10th & Baltimore.
Long a fan of crime and mystery fiction, Rodriguez said much of the inspiration for the novel came from her years working on college campuses.
"I've spent a bunch of my adult life on campus. I ran the Women's Center at UMKC and was assistant to the dean of the law school. So I have a pretty good feel for the problems of universities. They're not the pristine environments people may think."
Plus, there wasn't much mystery fiction set on campus. That meant Rodriguez would be staking out fresh territory.
In the novel Skeet must solve the murder on campus of an editor of the student paper. Her investigation throws light on corners of the college experience that the staff and faculty of the fictional Chouteau University would just as soon leave in the dark.
Though the work is fiction, many of the characters and situations in the novel are drawn from Rodriguez's own experiences...or those of acquaintances.
"I belong to a statewide women's leadership organization and one of my friends in that group was the highest-ranking woman police officer in the KCPD. She actually bears little resemblance to anyone in the book and she's long since retired.
"But she got me thinking: What if I had a character like that, one who leaves this upwardly mobile position that could make her the first woman police chief and runs a campus police force? What would make someone do that?"
Rodriguez, who is part Cherokee, decided to make Skeet half Cherokee. That aspect of the character will be developed more fully in subsequent novels.
And she gave Skeet an alcoholic father and an ex-husband who just won't let go.
Rodriguez is not Latina, but her first husband was of Mexican descent and her children consider themselves Hispanic. She drew on that part of her background to create the campus cop Gil Mendez, who will play an increasingly important role in future Skeet Bannion mysteries.
"You start exploring a character, and the story comes out of that," Rodriguez said.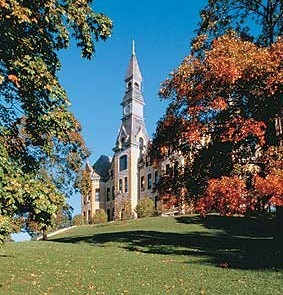 "That and the campus setting. The campus heirarchy is so rigid. It's like a caste system. Almost feudal. I've seen situations where high-level officials on campus want an unpleasant story swept under the rug.
"For years campus crime simply wasn't reported. Here's this gathering of young people fresh out of parental care with lots of energy and poor judgment. Plus, kids think they're immortal. So no matter how good a police force or administration you have, campuses will always be high crime. It's like spring break all year round.
"And a campus is the perfect hunting ground. The serial killer Ted Bundy gathered almost all his victims by visiting college campuses."
As for the fictional Chouteau University, Rodriguez said its physical layout is inspired by Park University in Parkville.
"It's such a beautiful setting. But the college in my book is much bigger – more of a KU or UMKC setting."
Rodriguez already has written a second Skeet Bannion mystery and is about to start writing a third. She has ideas for two more.
"I realize that mystery novels lack snob appeal, but the really fine mystery writers are turning out some of the best fiction out there, often dealing with really important social issues.
"That's something to aim for."
About the Author
Robert W. Butler is a lifelong Kansas City area resident, a graduate of Shawnee Mission East High School and the William Allen White School of Journalism at the University of Kansas. For several decades he was the movie editor of the Kansas City Star; he now writes the Library's From the Film Vault blog. He joined the Library's Public Affairs team in 2012.