As the creator of both Tarzan of the Apes and John Carter of Mars, Edgar Rice Burroughs (1875-1950) has given educator, critic, and author John Tibbetts countless hours of reading pleasure.
"Burroughs is in my DNA," Tibbetts, associate professor in the Department of Theatre and Film at the University of Kansas, says.
"One of my earliest memories is of sitting on my dad's knee being read the blood-curdling saga of John Carter. I'm sure my mom was there shaking her head, because there's some heavy duty stuff going on there.
"But I can still hear my dad's voice reading A Princess of Mars."
Tibbetts is no casual Burroughs fan. Among his prized possessions is a copy of A Princess of Mars signed in the author's own hand.
In 1949 Tibbetts' father wrote the author, telling Burroughs that he had named one of his twin sons Allan after the adventure character Allan Quatermain (created by novelist H. Rider Haggard), and his other boy John after Burroughs' John Carter of Mars.
"Burroughs sent us copy of A Princess of Mars and inscripted inside is a letter to me," Tibbetts says. It says Burroughs was honored to have originated my name. My father apparently sent Burroughs a check for the book, and we got back a letter from Burrough's secretary saying the author wanted this to be a gift for 'little John Carter'."
Tibbetts celebrates Burroughs' life and work in From Africa to Mars! 100 Years of Tarzan and John Carter on Sunday, March 18, 2012 at 2 p.m. at the Plaza Branch, 4801 Main St.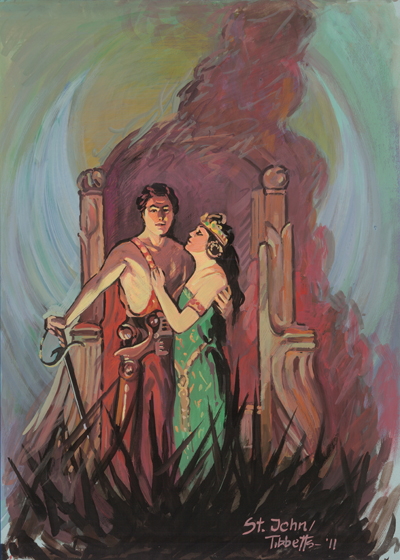 His presentation is particularly timely. Not only does 2012 mark the 100th anniversary of the creation of those two enduring characters, but on March 9 Disney unveils its film John Carter.
Burroughs has long been categorized as a writer of "pulp" fiction, but Tibbetts believes that label doesn't take into account Burroughs' genius as a storyteller.
"With Burroughs, nothing gets in the way of the action and the story. He's a genius of serviceable prose.
"He wasn't a stylist. His absolutely transparent prose allows you to access the characters. He had an amazing ability to put you into a story without the mediation of an author's voice.
"H. Rider Haggard" – author of She and the Quatermain stories – "was probably Burrough's closest rival, but he still has that Victorian sound in his prose. Burroughs gave us stripped-down modern prose that is verbally unencumbered."
Just about everyone is familiar with Tarzan, the English child raised by apes in Africa – although they might be surprised to learn that on the written page Tarzan isn't a grunting primitive but quite a cultured fellow. Tibbetts believes that Tarzan may be the most universally recognized character in all literature.
John Carter is less known. He's a Civil War veteran who while prospecting in the Southwest is attacked by Indians and wakes up on Mars, where he woos princesses and fights monsters.
"Burroughs was really ahead of his time. He sends John Carter to another planet with something like astral projection. And because of the lesser gravity there, Carter can fly. This is 20 years before Superman."
In 1911 Burroughs was selling pencil sharpeners in Chicago after failed careers as a cavalryman, cowboy, and prospector. A fan of escapist fiction, he was dismayed at the poor quality of many of the books and magazines he read and decided to try own hand at writing.
In 1912, the year his work first was published, he created Tarzan and John Carter. Two years later he came up with his third great literary franchise, the Pellucidar series about a civilization at the Earth's center.
Though hugely successful, Burroughs always seemed to be scrambling for cash. Tibbetts suspects he lived beyond his means.
Still, Burroughs moved out West, bought a ranch in California and founded a town named after his most famous character: Tarzana.
And while during his lifetime, Burroughs' work was dismissed by the critics, in recent years a new generation of scholars has embraced his storytelling skills.
Check out the event trailer:
About the Author
Robert W. Butler is a lifelong Kansas City area resident, a graduate of Shawnee Mission East High School and the William Allen White School of Journalism at the University of Kansas. For several decades he was the movie editor of the Kansas City Star; he now writes the Library's From the Film Vault blog. He joined the Library's Public Affairs team in 2012.