"It's been an incredible journey."
That's how Jamal Joseph describes his life, and nobody is likely to contradict him.
He has been (while still in his teens) a leading spokesman for the Black Panther Party.
An inmate of the U.S. Penetentiary at Fort Leavenworth, Kansas.
An Academy Award nominee.
He is now a professor at Columbia University, an institution which he once argued should be burned to the ground.
"You're sent to this life to learn," Joseph said in a recent telephone conversation. "And I signed up for every course God offered."
Joseph, the author of the memoir Panther Baby, speaks on Friday, September 21, 2012, at 6:30 p.m. at the Plaza Branch, 4801 Main St. A reception precedes the event at 6 p.m. Admission is free. RSVP online or at 816-701-3407.
Panther Baby is the remarkable story of a bright kid from the Bronx who became enamored of the Black Liberation movement of the 1960s, joined the Black Panthers, and while still a teenager was charged with 20 other Panthers of conspiracy to blow up public buildings.
Joseph was acquitted in that case, but then convicted of harboring a fugitive involved in an armored car robbery. He was sentenced to 12 years in Leavenworth. He spent his time there well, taking dozens of courses led by teachers from the University of Kansas. While an inmate he earned three degrees and wrote five plays and two volumes of poetry.
"Prison healed me," Joseph said. "It gave me a chance because of the men I met and the path I took in the creative arts. And because of prison I lived my life in reverse. Most people go to college and get radicalized. I was radical going in and came out a different person."
In Panther Baby Joseph doesn't try to overexplain or rationalize his youthful beliefs and behavior. He simply presents events as they occurred with minimal editorializing.
"That was a conscious decision. I spent a lot of time thinking about what the voice of the book should be. I do lots of work with young people at Columbia and with children's programs in Harlem and I'm always hearing the voices of teenagers. They ask me what my past was like, they want to know what it felt like.
"So I wanted the book to be the journey of a 15-year-old manchild trying to become a man, not that of man trying to analyze his own past. It's written from the point of view of a kid who didn't know all that much, whose consciousness was shaped by the things he encountered."
Joseph recalled the absolute sense of fear he felt when he first entered prison.
"Physically, Leavenworth is a very imposing place. The way they bring you in is guaranteed to make an impression. They have the psychology of it down pat. The bus pulls up at the front door and is met by guards with M-16 rifles. You walk in wearing shackles. The captain of the guards has a speech.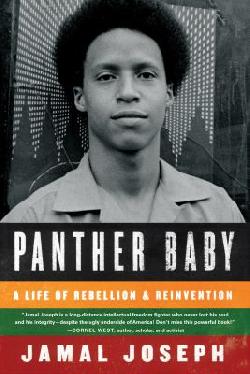 "'Welcome to Leavenworth. You've worked hard to get here. To your left is the hole; if you mess up, that will be your home.
"'To your right is the infirmary. If you mess up two times that is your next stop.
"'Behind this building is the cemetery. You mess up three times ... need I say more?'"
Initially, Joseph said, he was overwhelmed by fear. "But you start to form friendships and you relax a bit. Even so, you never sleep with your head toward the bars because somebody might reach in ..."
As he recounts in the book, the young prisoner found himself contemplating whether he would be forced to kill another inmate who had publically accused Joseph of informing to the FBI and now was determined to murder him.
"I put some batteries into a sweatsock, which can be a pretty deadly weapon if you swing it at somebody's head. I went to visit this guy in his cell and just as I was about to pull out the sock I heard a woman's voice. I believe it was my mothers' voice. She told me not to do this.
"I went back to my cell and just cried. The next day two knives were found in this other prisoner's cell. He was probably going to use them on me. He was shipped out to another prison.
"And the next day a judge ruled on my two-year-old motion. Ninety days later I was out."
Today Joseph heads Columbia University's film program.
"I still walk across the campus, stop, look around, and go, 'Wow. How did I ever get here?'"
He is also executive artistic producer of the New Heritage Theater in Harlem and has been featured on HBO's Def Poetry Jam and BET's American Gangster. He is the author of the interactive biography Tupac Shakur Legacy.
In 2008 Joseph was nominated for an Oscar for his contributions to the song "Raise It Up" from the film August Rush.
Married to an artist, he has three children – one in the graduate film program at Columbia, one who just graduated from Columbia, and one attending Brown University.
His life, he said, is centered on helping young people find their own paths.
"How do you make learning experiential, how do you make your formal education, life education, and spiritual education all connect?
"I use the creative arts as a teaching tool. At our little theater in Harlem we stress a social justice and social leadership curriculum. We encourage the use of the spoken word, music, and dance to interpret what's happening in our students' lives and in the world around them – guns, racism, the War in Iraq. You have teens pouring out their hearts and souls.
"And that's a very healing thing."
About the Author
Robert W. Butler is a lifelong Kansas City area resident, a graduate of Shawnee Mission East High School and the William Allen White School of Journalism at the University of Kansas. For several decades he was the movie editor of the Kansas City Star; he now writes the Library's From the Film Vault blog. He joined the Library's Public Affairs team in 2012.