One Flew Over the Cuckoo's Nest was the monster hit of 1975, winning Academy Awards for picture, director, screenplay, actor, and actress.
And yet, reminds David Thomson, it was a movie that nobody wanted to make, that for years had been considered unfilmable.
The British-born Thomson, regarded by many as our finest writer about cinema, introduces and talks about the history of Cuckoo's Nest on Monday, September 10, 2012 at 6:30 p.m. at the Plaza Branch, 4800 Main St.
His talk, Milos Forman: Finding a Nest, describes how Forman fled Communism in his native Czechoslovakia to find success as the director of Cuckoo's Nest and other big Hollywood movies. Following Thomson's remarks One Flew Over the Cuckoo's Nest will be screened.
The evening is co-sponsored by the Honorary Consul of the Czech Republic, the Honorary Consul of the Slovak Republic, and the Czech and Slovak Club of Greater Kansas City.
The free event kicks off a two-month long film series, Mondays with Milos, which features eight of the director's films. (See complete schedule at the end of this post.)
When Cuckoo's Nest came along in 1974, Forman had been in America for six years and while in this country had made only one not-very-successful feature film. But Cuckoo's Nest was, according to Thomson, just the right marriage of material and filmmaker.
"Forman is not an autobiographic filmmaker, but it's as good a film as it is because he identified so closely with the subject."
The protagonist of the film, which was based on Ken Kesey's novel, is McMurphy, a criminal who feigns madness because he thinks a mental ward will be more hospitable than a prison cell. Once admitted he organizes his fellow patients against the autocratic rule of Nurse Ratched, who rules with an iron fist and a handful of tranquilizers.
Forman brought to the movie his own experiences as a dissident in Czechoslovakia, where he often ran afoul of the Communist leadership.
"But then just about everyone involved can take credit," Thomson said. "Kirk Douglas was a prime mover. He had starred in Cuckoo's Nest on Broadway and purchased the movie rights. No one had worked harder to get it made. Kirk had tried to set it up as a movie and despaired of ever doing it. So when his son, Michael Douglas, said he's like to try, Kirk passed it off to him.
"Kirk and Michael had and have an extraordinary relationship. They look alike. They are alike. But there's an amazing rivalry between them. I think that for Michael to do something that Kirk had not been able to do was a huge thing."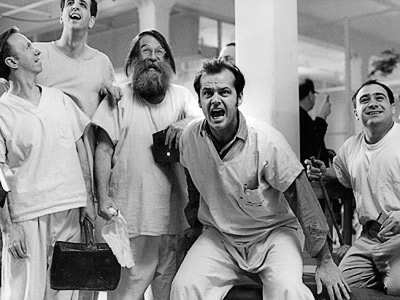 As the film's producer, Michael Douglas found the money, the cast, and the crew to make the landmark film. One of his smartest decisions was to hire Forman, who in his later films would show a remarkable ability to adapt to stories set in virtually any era or culture.
"Forman has some of the same personal history as Roman Polanski," Thomson said. "They are both survivors. Both were orphaned in World War II. Both had very difficult childhoods. And if you've had that kind of childhood, you never relax entirely. You've seen the worst and fear you might have to live through it again."
Perhaps because of that, Thomson said, Forman is "a rather masked person. I don't think he likes to reveal himself too much. He deals with things internally. It would be quite difficult to watch his movies and describe the person who made them.
"But once you know his history a lot falls into place. Then you realize that Cuckoo's Nest is an allegory about a police state."
One of the things that makes Forman's films fascinating, Thomson said, is that even when telling an American story he draws on European film sensibilities.
Thomson has met Forman, whom he describes as "good company, very smart, very shrewd. Engaging. But probably he leaves the conversation knowing more about you than you know about him."
A prolific writer, Thomson is looking forward to the October publication of his latest book, The Big Screen, which he describes as "the story of the movies ... a 600-page book that goes from Eadweard Muybridge" – whose sequential photos of humans and animals in movement predated motion pictures – "to Facebook and YouTube. It's not just a history of the movies. It's a history of screens, the means by which we watch movies and how these different screens – computers, iPods, iPads – change the way we view."
That change began with the introduction of television, which allowed the public to experience filmed entertainment in the privacy and solitude of their homes. Thomson speculates that soon the idea of gathering in a theater to watch a movie will be obsolete.
"I have a 17-year-old," Thomson says, "and he regards going to the movie theater as a rather unnecessary step."
The Mondays with Milos film series screens on Mondays at 6:30 p.m. throughout September and October, 2012 in the Stanley H. Durwood Film Vault at the Central Library, 14 W. 10th St.
September 10 One Flew Over the Cuckoo's Nest (1975): Based on Ken Kesey's novel, this film about a fun-loving miscreant who rallies the patients of a mental institution won Oscars for actor (Jack Nicholson), actress (Louise Fletcher), picture, screenplay, and director (Forman). Rating: R. 133 minutes.
September 17 Ragtime (1981): Forman's adaptation of E.L. Doctorow's novel offers a mix of fictional and historic characters colliding in turn-of-the-century New York. With James Cagney, Mandy Patinkin, Howard E. Rollins, Jr. Rating: PG. 155 minutes.
September 24 Hair (1979): Broadway's "American tribal love rock musical" about hippies hit the screen with a cast led by Treat Williams and Beverly D'Angelo. Rating: PG. 121 minutes.
October 1 Amadeus (1984): Peter Shaffer's stage smash about young Wolfgang Amadeus Mozart and the envious composer Salieri became a stupendously popular film in Forman's hands, winning an Oscar for actor F. Murray Abraham and a second directing statuette for Forman. Rating: PG. 160 minutes.
October 8 The People vs. Larry Flynt (1996): Smut peddler Larry Flynt (Woody Harrelson) takes on the Supreme Court ... and becomes a First Amendment hero? Well, yes, at least in Forman's Oscar-nominated drama. Rating: R. 129 minutes.
October 15 Loves of a Blonde (1965): Made three years before he left Czechoslovakia, this gentle drama follows a small-town factory girl who has an affair with a visiting musician and then follows him back to Prague, hoping to keep the relationship alive. Not rated. 90 minutes,
October 22 Man on the Moon (1999): Jim Carrey plays unconventional comic genius Andy Kaufman in this biopic that won Forman best director honors at the Berlin International Film Festival. Rating: R. 118 minutes.
October 29 Goya's Ghosts (2006: R): The great Spanish painter Goya (Stellan Skarsgard) paints a portrait of a priest of the Inquisition (Javier Bardem) while fending off accusations of heresy and protecting one of his models (Natalie Portman), who is suspected of being Jewish. Rating: R. 113 minutes.
Free parking is available at the Library District Parking Garage at 10th & Baltimore.
About the Author
Robert W. Butler is a lifelong Kansas City area resident, a graduate of Shawnee Mission East High School and the William Allen White School of Journalism at the University of Kansas. For several decades he was the movie editor of the Kansas City Star; he now writes the Library's From the Film Vault blog. He joined the Library's Public Affairs team in 2012.