Post date:
Wednesday, April 11, 2012
Live by the automobile. Die by the automobile.
That's Christopher Leinberger's mantra.
As the head of a graduate program in real estate, as a fellow of the Brookings Institute, and as a developer, he has become convinced that the means by which we get around determines what our cities look like.
"Transportation drives development," Leinberger says in a phone conversation from his Washington D.C. townhouse. "In urban planning there are 15 infrastructure categories, but transportation is always Number One. It's always been that way. If you understand ancient Rome's transportation system and how it dictated the form of their cities, you will understand much of urban history."
Leinberger will discuss ideas from his new book The Option of Urbanism on Wednesday, April 18, 2012 at 6:30 p.m. at the Central Library, 14 W. 10th St.
His presentation is part of the Library's What Makes a Great City series. Admission is free. RSVP online or call 816.701.3407.
Leinberger is a proponent of "walkable urbanism," an environment where nearly every need of citizens – shopping, work, recreation, health care – is within walking distance.
"Once you have to walk longer than a half mile most people require another mode of transportation. But even to encourage them to walk a quarter mile, you have to keep them interested with parks, neat architecture, attractive shops."
Kansas City, Leinberger says, is home to one of the finest examples of walkable urbanism in America: The Country Club Plaza.
Built in the 1920s by real estate developer J.C. Nichols, the Plaza set a standard rarely equaled, he says.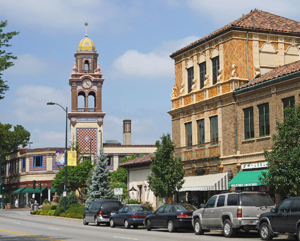 "The next time we saw it done as well was with the Reston Town Center outside Washington built by Mobil in the late '80s. J.C. Nichols had incredible vision," Leinberger says. "It's a pity Kansas City didn't follow that vision. Like everybody else, you sprawled."
Encouraged by auto and gasoline interests, American cities crept outward in the years after World War II.
"The result was 'drivable suburbanism.' That means you've got segregated uses: Office parks. Shopping centers. Residential areas. And you can only travel between them by car or public transportation."
Except that few suburban communities have the population density to make public transportation effective and economical.
Among the woes Leinberger attributes to sprawl are decline of community, urban decay, increased greenhouse gas emissions, and an explosion of obesity and asthma among citizens who simply don't walk enough.
But now, he says, the pendulum is swinging the other way.
"It's happening because of demographic and market factors," he says. "The millennials – the kids – want it. Young people coming out of college with huge debts can't afford to invest 25 percent of their income in maintaining a fleet of family cars. And many don't want to live in a suburb.
"Companies like H&R Block who survey their employees realize they won't get the best and brightest young people if their workplace is out on the fringes of the metropolitan area. That's a major reason H&R Block moved to downtown Kansas City. That's why Sears is considering moving back to downtown Chicago.
"A young work force demands it."
This isn't a battle between suburban and urban so much as one between drivable and walkable, Leinberger notes. Walkability is preferable whether in an urban or suburban setting; drivability is as destructive in a city as out in the 'burbs.
"For the last half of the 20th century builders concentrated almost exclusively on the drivable suburban model. And that, I argue, created the great recession.
"There were contributing factors: an unregulated secondary mortgage market, the fraud of some on Wall Street, the irresponsibility of credit rating agencies.
"But the underlying market reason for the collapse was the overbuilding of drivable suburban homes. We got way out in front of what the market could support. We overbuilt. In fact, we now have more drivable suburban housing than we will need for the next 30 years.
"That's why prices collapsed. These properties so depreciated that replacement costs are above market value. And that's my definition of a slum.
"Well, we can cry over spilt milk. Or we can move on."
Christopher Leinberger blogs at www.cleinberger.com.
About the Author
Robert W. Butler is a lifelong Kansas City area resident, a graduate of Shawnee Mission East High School and the William Allen White School of Journalism at the University of Kansas. For several decades he was the movie editor of the Kansas City Star; he now writes the Library's From the Film Vault blog. He joined the Library's Public Affairs team in 2012.