Like lots of other television watchers, Carol I. Hockett is in love with PBS' Downton Abbey – especially now that the series has put its characters though the horrors of World War I.
That was the era that gave birth to Dada, an anarchical art movement that turned upside down conventional Edwardian ideas of beauty.
"When you look at more recent avant garde movements that produced shocking or interesting art in the '60s and '70s – or even today – you realize that it probably was done before in a basement in Zurich in 1917," Hockett says.
"In most cases the Dadists did it first. Later generations are just now rediscovering it."
Hockett, who from 1986 to 2004 was the coordinator of Adult Programs and Gallery Interpretation at the Nelson-Atkins Museum of Art, looks at that time of artistic upheaval in WWI, Dada, and the Birth of the Modern on Tuesday, March 13, 2012, at 1 p.m. at the Plaza Branch.
Admission is free. RSVP online or call 816.701.3407.
As Downton Abbey illustrates, World War I shocked Europe out of its complacency. It "changed the life of words and images – radically and forever," according to famed art critic Robert Hughes.
"Many Englishmen sailed into the war thinking it would be over by Christmas," says Hockett, coordinator of the School and Family Programs at the Herbert F. Johnson Museum of Art at Cornell University. "They were shocked by this new kind of warfare with its massive casualties."
Dada springs from the idea that conventional art is now meaningless.
"It's trying to make a statement about a world that no longer makes sense after the horrors of the war," Hockett says.
"And that means reinventing artistic language because the old language is incapable of conveying the horror. Poetry, theater, visual art, film... it all had to change because nothing is working."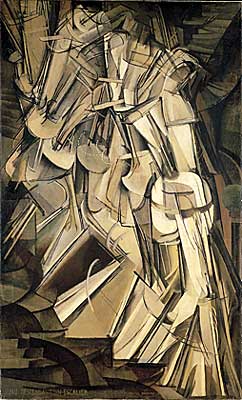 Dada was very much a do-it-yourself movement. It can't even be called a style, Hockett says, because pretty much anything an artist wanted to do was acceptable.
The Dadists might cut up words from a newspaper, put them in a bag, pick them out one at a time and recite them as poetry. They created "dance" pieces employing bizarre costumes and set to music that was little more than plinks and clangs of metal objects being struck.
Dadist Marcel Duchamp placed a urinal on a pedestal and called it art.
The Dadists practiced what we now know as performance art.
"One of the things you realize watching Downton Abby is that in earlier wars men with those kind of injuries wouldn't have survived," Hockett said. "But medicine had advanced to the point where they could save those men, even though they would live their lives disfigured.
"After the war the prosthetics industry saw a boom. And the Dadists started creating images of people with mechanical parts. They'd do sculptures using manikins with these odd metallic pieces joined to them. Eventually these became not just a broken person but a new sort of mechanical person."
Like most avant garde art movements, Hockett says, the Dadists were a non-commercial fringe phenomenon.
"There may have been a few daring collectors who were interested, but the stuff in the Dada shows was wildly out of the mainstream. Twenty years later when the Nazis were in power the Dadists made up a huge part of their 'degenerate art' exhibition."
Largely unorganized and rejected by the art establishment as anarchists and manifesto-waving radicals (their work was overtly political, pacifist and anti-bourgeoisie), the Dadist movement died out in the early 1920s.
But their influence extended to virtually every industrialized country. And their experimentation paved the way for modern painting (Pablo Picasso), modern music (Igor Stravinsky), and even avant garde filmmaking (Luis Buñuel).
Hockett's talk is co-sponsored by Kansas City's Art Study Club.
About the Author
Robert W. Butler is a lifelong Kansas City area resident, a graduate of Shawnee Mission East High School and the William Allen White School of Journalism at the University of Kansas. For several decades he was the movie editor of the Kansas City Star; he now writes the Library's From the Film Vault blog. He joined the Library's Public Affairs team in 2012.