In his poem, "To Sir Henry Wotton," John Donne observes:
"Sir, more than kisses, letters mingle souls,
For thus, friends absent speak. This ease controls
The tediousness of my life; but for these
I could ideate nothing which could please…"
This is a sentiment Elizabeth Bishop and Robert Lowell would heartily endorse.
The two were in the top tier of American poets in the 2nd half of the 20th c. They quickly became friends after their initial meeting in 1947, a time when Lowell was already an established poet, and Bishop was just breaking onto the scene. They remained life-long correspondents, producing a substantial body of letters up until 1977 when Lowell died.
As two important American poets, they knew well other great poets of their time: Marianne Moore, Ezra Pound, William Carlos Williams, Robert Frost, Randall Jarrell. Much of their correspondence deals with the craft of writing poetry, and reflects on what it means to be a professional poet.
In an early exchange, Robert Lowell, then working as Poetry Consultant to the Library of Congress (this position would become that of Poet Laureate), writes Bishop about recordings she made of some of her poetry (the recording quality of some was poor) for the Library, and Bishop sends a series of observations and suggestions about Lowell's poem, "Falling Asleep over the Aeneid"; in his reply, Lowell indicates that he had already incorporated many of her suggestions even before getting her letter, which suggests a high level of sympathetic understanding between the two.
Unlike Horace's verse epistles of last month, which were essays in verse on philosophical and literary matters, always intended for a wider audience, the letters in this collection were not intended for publication. This collection is one of a plethora of books of letters from famous people, gathered after their death and edited by some scholar. I find many such collections a big disappointment as they are rather broadly based and even prosaic. You'll get an author writing to his agent or publisher or editor about royalties, or bills, or other mundane matters. Often the letters in such collections are very brief, more like business correspondence than anything else.
This collection, though, is a of a correspondence between two friends, who are professionals (both famous American poets), both very concerned with their craft and each serving as a very conscientious and generous commentator and editor of the other's work. In addition, despite their personal differences (Lowell from a famous Boston family, a Brahmin, who liked to think of himself as just one of the boys; Bishop, though she had gone to Vassar, often worried about money, herself a very private person), they care a lot about each other. And as people in the top tier of versifiers, they talk about important poetical matters in the 2nd half of the 20th c. (what it meant to be poetry consultant or professor in poetry; the relative merits of other poets; the workings of the various committees that choose the poetry awards). And we get to see the two poets for almost their entire careers – their correspondence starts soon after Bishop's first book of verse comes out, and pretty early in Lowell's career, and continues until Lowell's death in 1977.
This collection is also notable in that both Lowell and Bishop are not much for small talk. Bishop does send her fair share of postcards to Lowell, but both Lowell and Bishop write fairly long and thoughtful essays. Though full of the niceties of the epistolary form dealing with personal matters, there is plenty of meat here on matters of language and literature. A reader of these letters can get a good sense of the pains a poet takes in crafting his/her poem, in choosing the right word, and of being challenged by another respected poet over word choice and structure.
One remarkable feature of this correspondence was how close these two poets were, though separated by class, by sexual orientation, by personality. Bishop's poetry displays an amazing attention to detail in observing the world around her, composed in a cool style, while Lowell's verse is much more reflective of his inner self – he is considered an early "confessional" poet, even the "father" of confessional poetry. The two only met occasionally – very often plans to meet just didn't work out. They spoke on the phone more frequently, but their friendship rests largely on their respect for and enjoyment of the other's works, and on their voluminous correspondence. Bishop claimed that, when she was working on her own verse, she had to take care not to read Lowell's work, as the power of his work would affect her own compositions, while Lowell took Bishop's criticisms of his poems very seriously, and imitated some of her poems in his work.
The two had been introduced in 1947 by a fellow poet, Randall Jarrell. At the time, all three were young poets, Lowell the best known of the three -- he was already the Poetry Consultant to the Library of Congress. Lowell remained the best known of the three, and served as the inspiration for the confessional poets who followed, some of whom, like Anne Sexton, he taught. Bishop remained lesser known until the 1970s when she took a position at Harvard, and gave many readings of her work around the country.
This book, though it can be read with some pleasure even if you have little knowledge of either poet, will be a much more enjoyable and valuable experience if you have read some of their poetry. So I'd recommend Lowell's For the Union Dead or Life Lines and Bishop's North and South; a Cold Spring, or simply look them up on Poetry.org (http://www.poetry.org) and read a selection of their works there.


BERNARD NORCOTT-MAHANY
About the Author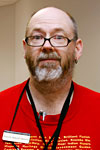 Bernard Norcott-Mahany, a library technical assistant at the Lucile H. Bluford Branch, is our resident connoisseur of classic literature. He is also the leader of the Black Classics and In the Heat of the Night book groups.