Post date:
Wednesday, December 8, 2010
When the Kansas City Public Library's annual Adult Winter Reading Program returns in January 2011, it will be sporting its new Altered States theme – which has already inspired several readers amongst Kansas City Public Library staff members.
Before getting to staff picks and recommendations for Winter Reading, a definition of the Altered States is needed:
The timeline of human history presents innumerable crossroads, junctions where individual actions proved decisive – perhaps even more so if these actions were altered even slightly. This premise has proved irresistible for authors of such stature as Mark Twain, Margaret Atwood, and Ray Bradbury. Novelists habitually manipulate time and transform our world, twisting its shape and cultures and characters to conform to their own imaginations and authorial ambitions. The resulting conflicts are insightful and rewarding – and the best examples ring true.
The Altered States theme has already inspired several readers amongst Kansas City Public Library staff members.
As we speak, Head of Readers' Services Kaite Stover is immersed in the Susanna Clarke novel Jonathan Strange and Mr. Norrell, which is the featured selection for the February session of her Downtowners Book Group. She describes the book as "an epic fantasy with one foot in the real world."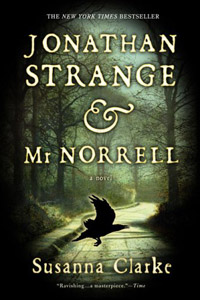 "English magic seems to have disappeared sometime before the Napoleonic Wars," Stover says, "but two aristocrats bring it back. This sumptuous novel is part fantasy, part comedy of manners, part political intrigue and completely mesmerizing.
"Readers will be caught up the lovingly detailed Victorian world Susanna Clarke has crafted, including her imaginative and sometimes laugh-out-loud footnotes," says Stover. "This unique book, with its complex characters and memorable images, will satisfy readers who have grown past the Harry Potter stage."
Waldo Branch Manager Alicia Ahlvers recommended the Keith Roberts novel Pavane for the Adult Winter Reading Program, but also recognized one of her favorite novels on the list already:
"Long before I knew anything about alternative histories, I discovered and fell in love with The Handmaid's Tale. In fact, Margaret Atwood is one of my top three favorite authors. This novel is the story of the Republic of Gilead, formerly the United States of America, and in this very different world, few women are able to conceive a child. This makes fertility highly valued. This novel explores the role of women in society, the potential impact that toxic waste has on the environment and how freedom can be lost in the wake of disaster.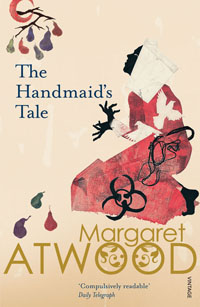 "It has shaped many of my ideas about what freedom means and more than any other influence, this novel made me a feminist and an environmentalist," says Ahlvers.
Over at the Plaza Branch, Reference Librarian Diana Hyle recommended one of her favorite novels – The Eyre Affair by Jasper Fforde – as an official Suggested Reading.
"Some books require a suspension of disbelief," Hyle says. "Some require firing your disbelief outright. But that doesn't make The Eyre Affair any less of a fantastic read. If you like literary and mythological allusions, evil magical arch villains, Brit lit, hard-boiled detectives, magical realism, alternate realities, theoretical physics, theoretical biology, romances, Shakespeare, fantasy, or slapstick comedy, there's something in this book for you.  Even if you don't like any of these things, I promise that this is a book that will keep you reading."
In past November, Waldo Technical Assistant Susan Howard finished reading The Road by Cormac McCarthy – an Altered States Suggested Reading that she read in order to report on it to the library's Readers' Advisory Group. She found this post-apocalyptic tale to be more than a little rewarding:
"Often people will say a good book was enjoyable," Howard says, "but that really can't be said about this book. It is too bleak. Yet I found it a book that was hard to put down. I wanted to keep turning the pages because the characters mattered to me. Though we do not know the history or the names of the main characters, nonetheless, they are so well developed and the story is so well written that their plight is riveting."
The 2011 Adult Winter Reading Program kicks off January 10, 2011 – and wraps up March 13, 2011. The program's goal is to inspire adult readers to pore through five books within that timeframe. For those who do, the Library will reward them with a free limited edition Winter Reading bistro mug and enter them into a drawing for a Nook e-reader.
-- Paul Smith