Post date:
Tuesday, October 11, 2011
Many of us lead double lives. There's our "actual" life, the one that requires showing up in person, and our "virtual" life, the one that requires opposable thumbs and a high-speed internet connection.
In the winter of 2009, Australian Susan Maushart declared her household an iFree zone. She unplugged herself, her three teenagers, and their domicile from the Internet, the television, computers, cell phones, and even electricity. Maushart called it "screen-free living" and chronicled her family's experiences and observations in The Winter of Our Disconnect: How Three Totally Wired Teenagers (and a Mother Who Slept with Her iPhone) Pulled the Plug on Their Technology and Lived to Tell the Tale. She wanted to rediscover her "actual life."
Her teenagers, Bill, Anni, and Sussy, went bananas. They are digital natives. They'd never lived in a time when they weren't permanently attached to a laptop or cellphone. But they went along with their mother's experiment in "cave dwelling" as one termed it.
It took a great deal of getting used to. Sussy decided she needed to spend more time with her father (who had wi-fi) and packed herself off to spend the season with him. Eventually she returned to Home Unplugged and her brother and sister. 
The electricity ban didn't last long. After Maushart found that doing laundry by hand was charming, dishwashers were overrated time-eaters, and making toast over an open flame was delightful, she was not thrilled when a bottle of wine stored in the ice chest tipped and spilled over everything.
But the electronics embargo lasted, and the family faced their biggest challenge yet: boredom. Maushart's son Bill rediscovered his saxophone, Anni started reading magazines and newspapers more. Everyone played with the new "handheld toy," a kitten named Hazel. Maushart discovered that she didn't need her constant fix of news and concluded that a great deal of it isn't very important.
There were other benefits to the experiment that didn't appear until after it was over. Maushart is convinced that technology was cutting into one daughter's sleep time. Another daughter saw an increase in her math grade. Her son taught himself how to grill.
Maushart uses studies and statistics to back up her conclusions about the impact technology has on our emotional, mental, and physical lives and readers will be impressed and surprised at some of her conclusions.
It's not an easy thing to do, pull the plug on all the devices meant to make our lives easier and more efficient and give us more time. But Marshart raises an interesting point – time to do what and with whom?
Think you can rediscover your own actual life? It's as easy as pushing a power button.
About the Author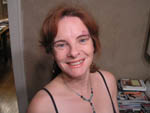 Kaite Mediatore Stover is the Head of Readers' Services for the Kansas City Public Library. She is a regular guest on KCUR's Book Doctors segment and moderator of The Kansas City Star's FYI Book Club. She can tap dance, read tarot cards, and doesn't bite.