Post date:
Sunday, February 13, 2011
Love warps the mind more than a little. In every woman's past is a tale of a love gone wrong. These tales usually make for great conversation over brunch with the gals. "What were you thinking?!" "He was never good enough for you!" "Good thing you got out of that one alive!" For readers who want to avoid all the ooey-gooey-I-love-you-tooey sentimentality of the holiday of hearts, try one of these heart-shakers.
It's one thing to fall in love with the wrong man, but what happens when the man wants to be the woman? This dilemma faces Allison Banks in Trans-Sister Radio by Christopher Bohjalian. With his distinctive grace and appreciation for ordinary people in extraordinary situations, Christopher Bohjalian plots the simple and complex changes endured when Allison's boyfriend, Dana Stevens, confides his greatest secret—he longs to be a woman.
All-consuming first love dooms the characters in That Night by Alice McDermott. In a closely knit suburban community on Long Island, high-school sweethearts Sheryl and Rick play out a compelling drama that touches all who watch it. Fifteen-year-old Sheryl is pregnant, and the conventions of the time demand she leave home, give her baby up for adoption and never see Rick again. Readers will be swept back to an innocent '60s summer and experience the disturbing rumblings of youthful resistance.
Long distance relationships are always difficult, but never more so when they are situated Somewhere in Time. In this soulful romantic classic by Richard Matheson, thoroughly modern Richard falls desperately in love with the portrait of a stunning turn-of-the-century actress, Elise McKenna. After exhaustive research into the intricacies of time travel, Richard finds himself transported to Elise's time, 1896. Now he must locate the love of his life, introduce himself, convince her they were meant to be together, and then find a time they can both inhabit.
How well do we really know the people we love? In Blood Music by Jesse Prichard Hunter, Zelly Wyche, housewife and recent mother, begins to wonder as she closely follows the newspaper stories chronicling New York City's most recent sensationalized serial killer and notices her husband's own irregular behavior.
What are your favorite tales of love gone wrong? Share them in the comments below!
About the Author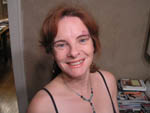 Kaite Mediatore Stover is the Head of Readers' Services for the Kansas City Public Library. She is a regular guest on KCUR's Book Doctors segment and moderator of The Kansas City Star's FYI Book Club. She can tap dance, read tarot cards, and doesn't bite.