Post date:
Monday, November 28, 2011
I've never had the desire to serve anyone in a restaurant setting. After listening to Waiter Rant by Steve Dublanica, I want to even less. I do, however, have a greater respect for people who work in the food service industry, and I'll think twice before I send my order back to the kitchen.
Waiter Rant: Thanks for the Tip – Confessions of a Cynical Waiter undoubtedly lives up to its name. We meet the author after he's served a short stint in the corporate health care industry. Dublanica had high hopes for his career, but soon became disenfranchised with the events of his life.
After being laid off from his job, Dublanica takes a "temporary" position as a waiter in a restaurant where his brother works. He eventually finds himself staying in the restaurant industry well into his late 30s. In order to deal with the stresses of waiter life, Dublanica starts a blog called Waiter Rant. Writing anonymously as "The Waiter," he blasts unfriendly customers, complains about the daily grind, and unveils the inner-workings of an upscale restaurant. 
The book is part auto-biography, part pessimistic obsession with bad tippers. Dublanica alternates between revealing his hopes and dreams and shattering those same hopes and dreams with the reality of life. At first, his stories about obnoxious customers are relatable and humorous. By the end of the book, they are repetitive and predictable. "The Waiter" does however throw in the occasional pleasant customer story in his erratic narrative about restaurant industry.
What bothers me about this book might not be as bothersome to others who choose to read this non-fiction tale. The Waiter spends the majority of his book complaining about ridiculous customers and micro-managing restaurant owners – so much so that he begins to sound as if he is whining. He actually ends the book with a list of what not to do as a patron of a restaurant! 
While most of these accounts are humorous, Dublanica presents a perspective that I don't feel is unique to the food service industry. When working with the public, you tend to get a variety of people asking for service, and unfortunately not all of them are grateful for your help. Everyone complains about his or her job, so what makes "The Waiter's grievances worthy of a full-length book? I struggled to answer this question.
I might have enjoyed this book more had I read it rather than listened to it as an audiobook. I found the performer's voice monotonous as the main character and annoying when attempting to imitate co-workers or customers.
Although I can appreciate the work and perspective of someone living a life different than my own, I struggled to enjoy this work in its entirety and could not find the redeeming qualities I was hoping for.
About the Author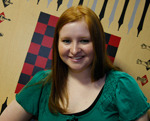 Megan Garrett is the librarian at the Sugar Creek Branch of the Kansas City Public Library. She also writes book reviews for the Independence Examiner newspaper.