Fantastic, tossed, and all from shilling packet
--An acre sprung from one expended coin,--
Visions of what might be.
We dream our dreams.
What should we be, without our fabulous flowers?
V. West, The Garden
The early Spring has had me reveling in the colors of the garden and frantically dreaming of my ambition for this year. Caught up in this frenzy, I found the only thing that could divert my attention was reading about Sissinghurst.
Sissinghurst Castle (which may be a bit of a misnomer) is an estate in the hills of Kent, England, that was owned by Vita Sackville-West and Harold Nicolson. Vita was a poet, Harold a man of letters and diplomacy, and many will know her from their 20th century English Literature review class as a member of the Bloomsbury Group. Her most famous work in her lifetime and after, The Land, is an epic treatise on the Kentish countryside and the nobility of its people and their love for their bit of earth.
But, in the plant world, Vita is best known for Sissinghurst Garden.
In 1930, still smarting from being disinherited from her ancestral home at Knole, Vita discovered Sissinghurst, an ailing and decrepit property that had seen its best days for the house and grounds during the Elizabethan era and the best days for the farms in the Victorian era. She immediately fell in love with the vistas of the Kent countryside and the resplendent possibilities in the Tower. They bought it and immediately began to transform it.
Vita's Other World: A Gardening Biography of V. Sackville-West by Jane Brown tells Vita's story, but not the one that a Bloomsbury scholar would tell. Drawing upon Vita's correspondence and journals, Brown explores Vita's gardening legacy.
In documented detail, Brown chronicles the disappointment at leaving Knole, trying to find solace at Long Barn while she started a family and wrote The Land, and the eventual discovery and joyful transformation of Sissinghurst.
But not content to merely explore the old roses and the Lime Walk, Brown places Sissinghurst in the context of what it meant in wartime and after as England tried to wake up from the sharp measures of austerity that WWII had brought. Other World is an homage to a great lover of the land and the incredible emotional inspiration and sustenance that she took from it.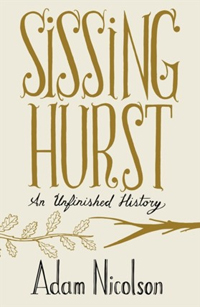 Sissinghurst: An Unfinished History by Adam Nicolson tells his understanding of the land that surrounds the famous garden. As a boy, Nicolson lived at Sissinghurst with his father, Nigel, and sisters to help care for the large property and Nicolson's grandfather and Nigel's father, Harold Nicolson.
It was during this time that Sissinghurst came under the care of the National Trust of Britain. When Adam Nicolson returns to Sissinghurst as a grown man, also to care for his father who is ailing, he and his family stay on in the family house.
A proponent of the local food movement in England, he laments that Sissinghurst has become merely a tourist destination that celebrates his grandmother's fame instead of a living organism that reflects the glory of the farmland and the way of life in Kent.
An Unfinished History chronicles his work with the National Trust to restore an authenticity of real food and a farm in relationship to the land.
Both books tell the story of what it is to be in love with a place and to have such intense, emotional ties to that place. While Nicolson begrudgingly alludes at times to his famous grandmother, it was her love for the beauty of Kent and her abiding appreciation for the way of life of the land there that brings the entire family to Sissinghurst.
Both of these books celebrate the substantial relationship that Vita and her family have with the rolling hills of Kent.
About the Author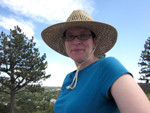 Melissa Carle is a Support Specialist with the KC-LSP and thinks life is too short to read a book that doesn't excite you in the first 40 pages. She likes cooking, herb gardening, and, of course, reading and thinks all good books, fiction and non-fiction alike, share one thing in common: they're just a good yarn.