Post date:
Thursday, November 6, 2014
Those of you who have been reading my classic mystery blogs must be scratching your heads about now. Mickey Spillane — Classics — what gives? And no doubt there are those who would agree with some of the scholars of the mystery field, who charged that Spillane had debased what had become a much more literary form thanks to the efforts of Raymond Chandler and Ross MacDonald.
I would argue, though, that one need only look at the early work of Dashiell Hammett, even up to his first novel, Red Harvest, to find work very similar to Spillane's. Hammett, as you know, was the man credited with lifting hard-boiled fiction out of the pulps and into the academy.
Some of you may only know Mickey Spillane from some Lite Beer commercials he did in the 1980s.
My own introduction to Spillane was this novel, the 3rd outing of Spillane's hardest of hard-boiled detectives, Mike Hammer (the first two novels being I, the Jury and My Gun is Quick.) It was in my Shakespeare class (Fall of 76) that my professor, Edward Callahan, cited this book's opening line as a great example of the Attic (or unadorned) style. That opening line is "The guy was dead as hell." After Professor Callahan's introduction of that line into a class on the Bard of Avon, I just knew I had to read the book, which I first did in August 1977 to celebrate my move to Chicago. (I know, Chicago may be tough, but it's not NYC tough!)
The story goes that Spillane wrote the book on a bet. A friend had challenged him to write a mystery in which the final clue was withheld until the last page. Spillane reportedly replied that he would write a mystery in which the last and crucial piece of information was not given until the last sentence, the last word in fact. I could tell you what the word was, but that would be the ultimate spoiler, and so I shall refrain.
I will not defend Spillane's misogyny, Spillane's homophobia, or his John Birch-ish political views. I do not share those views, and do not approve that message. But as someone who honed the hard-boiled style so it packed quite a punch, I can think of few other authors to match Spillane other than Hammett. His is a vitriolic and intense poetry, but poetry nonetheless. Give it a look:
When Hammer visits a modeling agency, he describes the shoot as follows: "He was managing to get a whole lot of women dressed in very little nothing in place amid a bunch of props so the camera would pick up most of the nothing she was wearing and none of the most she was showing." And later, while touring the Bowery, Hammer notes: "The Bowery, a street of people without faces. Pleading voices from the shadows and the shuffle of feet behind you. An occasional tug at your sleeve and more pleading that had professional despair in the tone…The bars were lined with the left-overs of humanity keeping warm over a drink or nursing a steaming bowl of soup." And, when his license is suspended and his gun permit revoked, and it looks like his career as a PI are over, he notes that the newspapers, to whom he had given plenty of copy, were only too willing to drop him now. He adds ironically: "Only one bothered to be sentimental about it. He wrote me an epitaph. In rhyme." Spillane's form may be prose, but he displays a jazz poet's touch.
The plot, to put it briefly, is as follows: Hammer meets a guy he knew in WWII, now a working stiff. They spend a night drinking and reminiscing, and when the book opens, the guy is dead in his hotel room, apparently shot by Hammer's gun. The DA who doesn't like Hammer revokes his PI license and his license to carry a gun. Though the verdict is suicide, Hammer is blamed for being careless with his weapon. But Hammer knows it's murder, and as vengeance for a friend and his own reputation are at stake, this time, it's personal.
Other Spillane books you might consider looking at include Kiss Me, Deadly, and One Lonely Night, in which Hammer goes up against the Communist Party. And for films, Kiss Me Deadly (yeah, they left out the comma) is the best film, though the director, Robert Aldrich used the book to criticize the entire Hammer milieu. And you can see Spillane himself as Hammer in The Girl Hunters.
About the Author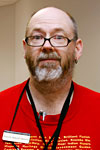 Bernard Norcott-Mahany, a library technical assistant at the Lucile H. Bluford Branch, is our resident connoisseur of classic literature. He is also the leader of the Black Classics and In the Heat of the Night book groups.