It seems appropriate, during Lent, and with the selection of Pope Francis I, to look at two famous biographies of two famous Catholics, Cavendish's Life of Cardinal Wolsey and Roper's Life of More.
In Roper's Life of More and Cavendish's Life of Wolsey we have famous biographies of two famous men, both prominent in the reign of Henry VIII, who both fell out from the favor of that king. More and Wolsey were political foes. More, especially because of A Man for All Seasons (based on Roper's Life), and because of his canonization as a saint by the Roman Catholic Church, is a figure generally lionized. It is not uncommon for Catholic colleges and universities to have a Thomas More Society. Wolsey, on the other hand, is generally portrayed as a politically ambitious man who was unable to keep the high position his talent and drive had won him. Consequently, Wolsey is viewed far less favorably by posterity than More.
Just as Cardinal Newman wrote his own autobiography (Apologia pro Vita Sua) as a defense of his position as an Anglican in his youth and Catholic in his later years, Cavendish and Roper both wrote these lives to defend or promote the reputation of these men. Cavendish had been one of Wolsey's attendants, while Roper was More's son-in-law, married to More's eldest daughter, Meg. Both biographies were written long after the death of their subjects. Cavendish's work was composed in its final form sometime between 1554-58, more than twenty years after Wolsey's death in 1529. Roper's life of More was composed about the same time, about twenty years after More's death in 1535.
Cavendish was intent on restoring Wolsey's reputation against the gossipy reports that informed most people's view of the cardinal. He notes in his first paragraph: "Meseems it were no wisdom to credit every light tale, blazed by the blasphemous mouths of rude commonality, for we daily hear how with their blasphemous trump they spread abroad innumerable lies…" It was to answer such gossip that Cavendish composed this biography.
Roper intended rather to write what amounts to an extended eulogy of the greatest man he ever knew. Like Wolsey, More had big political enemies -- he was ultimately charged and condemned to death on the perjured testimony of some of those enemies. Roper does not speak much about those charges, but rather focuses on More facing his troubles as a man of great principle and even greater conscience. He was not writing about a clever man no better than his times (Wolsey could be so described), but as a man much better than his times, a "man for all seasons."
Cavendish looks at Wolsey's life as something like a Greek tragedy. Here was a man of great talents and ability (Wolsey graduated from college at 15), who, through changing fortunes, managed to lose all he had. Cavendish wants to defend Wolsey from the vicious gossip against him, but the Cardinal's extravagance, and his political maneuvering, do suggest that the sins of pride and excess were very much part of the Cardinal's character. In his closing section, Cavendish casts Wolsey's story as a cautionary tale for all who think they are anything but Fortune's plaything, and he warns the reader against "the wondrous mutability of vain honors, the brittle assurance of abundance, the uncertainty of dignities, the flattering of feigned friends, and the tickle trust to worldly princes." Shakespeare addresses this very idea in Wolsey's great soliloquy ("Farewell … to all my greatness") in Henry VIII, Act III, Scene 2.
Roper would rather focus our attention on how a great man, a man of principle, can live in the world, but not be of the world. In one of the most telling passages of the Life, More's wife, Alice, visits him in the Tower of London, and there lights into him because he cannot bring himself to take the Oath of Supremacy (that the King of England is head of the church in England), adding that he should do so with all his mental reservations, to save his life for his family's sake. But More's conscience will not let him do that, and, strangely enough, More feels himself still the king's servant, and that he would be doing the king a disservice to flatter him by swearing such an oath. What is absent in More is any anger at the life he has. Soon before his own execution, he observes a fellow prisoner going to his death and looks on him as a model to emulate. More is courteous and generous to the prison officials and even to his executioner. And as he never got caught up in the allure of things, he is able to be of even temper when those things (his life included) are lost.
Neither life is complete. Cavendish fails to mention More at all, while Roper makes no mention of More's great work, Utopia. Modern scholars have done much more thorough jobs in the lives of both men (see Peter Gwyn's The King's Cardinal: The Rise and Fall of Cardinal Wolsey and Peter Ackroyd's The Life of Thomas More). Both lives, however, are beautifully written pieces that are worth reading as much for their language and structure as for any information conveyed.
About the Author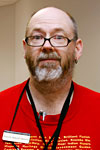 Bernard Norcott-Mahany, a library technical assistant at the Lucile H. Bluford Branch, is our resident connoisseur of classic literature. He is also the leader of the Black Classics and In the Heat of the Night book groups.