'Til Morning Light is the third novel in the Gracelin O'Malley series by Ann Moore. This historical fiction series follows heroine Gracelin as she travels from Ireland to New York to San Francisco in the mid-1800s. 'Til Morning Light concludes Gracelin's journey as she struggles to balance her own personal happiness with the best life possible for her two young children.
Gracelin is planning to marry Captain Reinders as she waits in San Francisco, working as a cook in a house for a local doctor. But many surprises are waiting for Gracelin in San Francisco – a headstrong housekeeper, her own brother hidden in Chinatown, and her one true love.

Gracelin is an extremely strong female character who survived a great deal of turmoil in Ireland before escaping to America. I was surprised at her openness and her ability to adapt to her surroundings.
I also enjoyed the debates on morality and other issues between Gracelin and Dr. Wakefield. I felt that the author was able to delicately handle sensitive issues that did not interfere with the story. I also noticed an appreciation for faith throughout the book, but it was essential to the story and I did not feel as though the author was preaching to me.

I was pleasantly surprised to find myself enjoying this book, as it had a wide range of drama, history, romance, and intrigue. The characters are all vastly different, and their lives intertwine in a way that can only be accomplished in the novel form. This book and the series itself would not translate well into a feature length film.

I'm usually apprehensive about tackling a novel that has a historical setting. I generally stick to young adult novels with a modern-day setting, but because I enjoyed this book as much as I did, I hope to be more open in my reading choices for the future.
After all, if I liked this book when I stepped out of my normal comfort zone, the others out there like it can't be nearly as scary as I think they are.
About the Author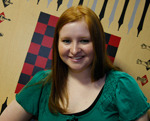 Megan Garrett is the librarian at the Sugar Creek Branch of the Kansas City Public Library. She also writes book reviews for the Independence Examiner newspaper.