For many men, the fantasy of escaping the drudgery of their daily lives includes strapping on a sabre, affecting an accent, a-swashin' and a-bucklin' through the rigging, clutching a buxom wench, a pint o' ale and a parrot spewing colorful invective.
If that seems like too many objects to juggle, it's his fantasy. He can handle it.
Women already know how to juggle (bring home bacon, fry in pan, it's all part of a day's work). All we need to escape is a couple of candles, a jar of aromatic bath salts, a good book, and a lock on the bathroom door. Historical fiction can be the highest form of escapist literature as it thoroughly transports the reader to a time and place completely different from current circumstances.
And a good historical novel can be the equivalent of a capful of the most decadent soap bubbles, removing the reader from a life slightly ordinary to one wholly (though temporarily) remarkable.
Go ahead, ladies. Choose your own adventure.
Storyville, Lois Battle
Profession getting a little stale and confining? Consider the experiences of the fancy women plying their trade in Storyville. Two women in turn of the century New Orleans tackle the world's oldest profession in opposing ways that bring them together. With whom will readers sympathize more—fiery Yankee feminist Julia Randsome or beguiling soiled dove Kate?
Dreaming the Bull, Manda Scott
If leading armies fighting for freedom sounds appealing, look toward the fierce independence and loyalty of Boudica, the warrior queen of Britannia in Dreaming the Bull. Grieving for her brother, Ban, lost in a previous battle, Boudica retreats to the sacred isle of Mona to raise her children and gather her forces, both mystical and physical, for future combat. Readers will be thrilled with the compelling battle sequences and the suspenseful plot as they ride alongside the noble Boudica in pursuit of a country's freedom.
The Palace of Tears, Aleve Lytle Croutier
Take an exotic excursion to the Orient with the besotted Casimir de Chateauneuf in The Palace of Tears. After purchasing a mysterious miniature labeled La Poupee, Casimir becomes obsessed with the beautiful image of a Turkish harem girl with one blue eye and one yellow eye. Leaving behind his loving family, prosperous vineyards and secure social position in 1868 Paris, Casimir begins the arduous journey to the glittering capital of Istanbul in search of a woman he is forbidden to touch but free to worship. This lush and hypnotic adult fairy tale of forbidden lovers is as mesmerizing as the surface rainbows of a soap bubble.
Let your library card plan your next vacation to the community of readers.
About the Author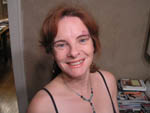 Kaite Mediatore Stover is the Head of Readers' Services for the Kansas City Public Library. She is a regular guest on KCUR's Book Doctors segment and moderator of The Kansas City Star's FYI Book Club.