Post date:
Wednesday, January 15, 2014
After a rather heavy 2013, full of some imposing works of biography, I thought it would be good to relax in 2014. And so, we'll look at mystery novels this year.
Mystery novels can be divided into three broad areas:
Cozy (little blood and lots of ratiocination), sometimes called the "classic" or the "English manor house."
Hard-boiled (PIs, dangerous dames, and a violent world).
Police procedurals (the machinery of detection in action).

Over the course of the year, I'll be looking at 4 examples of each.
To begin, I think we have to look at Sherlock Holmes, the great granddaddy of the cozy mystery, and a figure that each generation seems to need to revisit (most recently in Jeremy Brett's TV and Robert Downey, Jr.'s film portrayals, as well as Benedict Cumberbach's [Sherlock] and Jonny Lee Miller's [Elementary] updated TV portrayals [depicting a new Holmes for the 21st c.], as well as numerous recreations in print [see especially Laurie King's novels of the retired Holmes and Mary Russell, beginning with The Beekeeper's Apprentice]).
Doyle did not invent the detective story (that honor goes to Edgar Allen Poe and his detective, C. Auguste Dupin) or the mystery novel (that honor is generally given to Wilkie Collins and his novel, The Moonstone), but he did establish something of a template in his stories of the brilliant, but quirky, Holmes, and in stories of detection narrated by a less brilliant friend, in this case Dr. John H. Watson, M.D. (NOTE: most of the Conan Doyle Holmes stories are narrated by Watson, but a few late stories are narrated by Holmes himself, and one ["The Last Bow"] is told in the 3rd person).
Doyle first introduced the character in the novel, A Study in Scarlet, which first appeared in the Beeton's Christmas Annual (1887). Doyle was fortunate to have Sidney Paget as illustrator for the stories, and I heartily recommend you approach the work (or any of the Holmes canon) by checking out The Annotated Sherlock Holmes, ed. by William Baring-Gould, which features the Paget illustrations as well as lots of great marginalia about the Victorian world, information about historical and cultural references which needed no explanation in their day, but which are often lost on us now.
In A Study in Scarlet, we have two mysteries to consider:
Who has killed Enoch Drebber, a wealthy American traveling in Europe (also how was he killed and why)?
Who is Sherlock Holmes?
The novel is written (as are the other 3 novels, and most of the stories) from the perspective of Dr. Watson, an army surgeon, returned to London to recover from wounds sustained in the 2nd Anglo-Afghan War (1878-1880). And if Holmes is trying to solve the murder of Drebber, Watson is equally determined to figure out his mysterious flatmate.
At one point in the novel, Watson puts together a list of strengths and weaknesses in Holmes' knowledge base. The areas where Holmes is deficient include literature, philosophy, and astronomy. Holmes, for instance, does not know, or care, that the earth revolves around the sun, and when Watson tells him this is so, Holmes swears that he will soon forget it. Holmes compares his brain to an attic—a neat attic with only necessary items is to be preferred to one cluttered and full of all sorts of unnecessary junk. The solar system and the recent discovery of Uranus are useless for solving crimes, and so, they take no place in Holmes' attic. Chemistry, biology, the law, and other useful areas, are quite well known by Holmes, who, we also find out, has written a monograph on different types of cigar ash.
Holmes was based on a medical professor Doyle studied under at the University of Edinburgh, Dr. Joseph Bell. Bell apparently amazed his students with his ability to both see and observe, and he encouraged the students to enhance their abilities in observation.
This novel is not the best of the Holmes' canon. Holmes generally shines best in the short stories, especially those contained in the collections, The Adventures of Sherlock Holmes and The Memoirs of Sherlock Holmes. Holmes is only in a little less than half of the novel. The second half of this novel is given to narration by the killer as he explains why he killed Drebber. But the novel does give us a glimpse of that "historic" moment when Watson first met Holmes, and, for that, it is well worth a look.
I would also recommend that anyone taking up any sustained reading of Holmes stories visit the site of the Baker Street Irregulars. This group, founded in 1934 by Christopher Morley, meets annually in New York City and provides a wealth of information for anyone wishing to "play the game" (treating the Holmes stories as if referring to a real person, and trying to resolve differences in the stories).
About the Author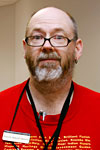 Bernard Norcott-Mahany, a library technical assistant at the Lucile H. Bluford Branch, is our resident connoisseur of classic literature. He is also the leader of the Black Classics and In the Heat of the Night book groups.