Libraries have started grouping thrillers, action/adventure novels, and suspense together under one umbrella that we like to call "Adrenaline." What do all these books share? The ability to get your blood pumping and to literally stop you from putting them down.
Here are some of the best adrenaline reads from the past year. Click the title links to see the items in our catalog, and, if you're feeling adventurous, put one or two on hold.
They're Watching by Gregg Hurwitz

What would you do if you found out you were being watched? When Patrick Davis starts to get DVD's showing him inside his home, going about his day, he realizes that he is in serious trouble. And then he gets a phone call asking, "Are you ready to get started?" and that is when the fun really begins. This is one nonstop ride full of action and enough twists and turns to keep you guessing until the very end.
Caught by Harlan Coben

This was perhaps my favorite adrenaline novel of last year. Harlan Coben is such a smooth writer and always comes up with new twists in his plots. Dan Mercer walks into the house of a youth who he thinks is in trouble. Instead, he finds himself the centerpiece in a sting operation by a local news station about pedophiles who stalk their victims on the Internet. In the days that follow, he struggles to prove his innocence, only to uncover an even deeper plot to destroy him.
The 13th Hour by Richard Doetsch

If you like unique and clever thrillers, this may be the novel for you. Time ticks backward as Nicholas Quinn witnesses the murder of his wife and then has to race to solve the puzzle and keep it from happening all over again. This particular novel has a little supernatural element to give it a little extra zing for those of you who are science-fiction fans.
Crashers by Dana Haynes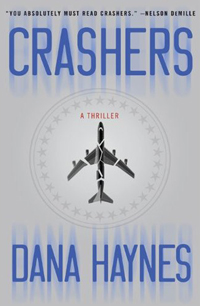 When a plane is downed in the Pacific Northwest, the National Transportation Safety Board aviation disaster team is pulled in to investigate. When a series of inconsistencies in the investigation makes it clear that this crash is not an accident, it becomes a race against time to find out the answers before it happens again. Even more compelling than the action are the details of how an airline crash is investigated. This was a riveting look that explores exactly what a "crasher" does.
The Nearest Exit by Olen Steinhauer

Some adrenaline novels start with a bang. This one slowly builds in intensity until the bone-chilling conclusion. This sequel to the smash hit The Tourist once again follows our spy with the clandestine Department of Tourism, Milo Weaver, into a series of assignments designed to test his loyalty. When asked to kill a 15-year-old girl, his enthusiasm for his secret life begins to fall apart and he must decide if he is going to risk his life and his family to save an organization that he is coming to despise. Fans of the old-fashioned spy novel will be thrilled with this complex, twisted tale.
Deep Shadow by Randy Wayne White

Randy Wayne White has been a powerhouse in the mystery field for many years. Some of his books are more mysterious, others are jaw-dropping and blood pumping. This offering is definitely in the blood pumping category.  Imagine ex-cons on the loose, Florida swamps, underwater avalanches, buried treasure and giant killer Komodo Dragons and you have all the ingredients for the wild ride of a novel.
Devils in Exile by Chuck Hogan

Home from the war, Neal Maven is working dead-end jobs and feels marginalized and unappreciated for his service to his country. When a mysterious stranger with flashy clothes offers a way to use the skills he learned in Iraq to take down drug mavens and dealers, he jumps at the chance. Soon he is living the good life, but when he falls for his boss's lady and the rest of the team starts to get careless he decides he wants out, which is when the real trouble begins. I have said before I need my thrillers to be action-packed and full of adrenaline for the entire book. This delivered from start to finish with a fully fleshed-out main character that was never clichéd or predictable.  
About the Author

Alicia Ahlvers is branch manager at the Kansas City Public Library's Waldo Community Library and has been with the Library for 15 years. She is active in the American Library Association and has served on both the Notable Books Council Award committee and The Reading List book award committee. She also works evenings and weekends for UMKC Miller Nichols Library.