China Miéville's latest book, Railsea, takes an ambitious run at a classic heavyweight - Moby Dick. The comparisons are plentiful and easily made, but Railsea turns the story of revenge into something completely its own.
In this cross between a parody, re-telling and homage, the characters in Railsea are dealing with monstrous moles, turtles and earthworms instead of sea creatures. The sea is actually a strange sort of earth, the boat is a cross between a train and a coal cart, and Captain Ahab is a woman. Just go with it.
Shamus Yes ap Soorap (Sham for short), rides the tracks on an endless sea of rails, apprenticed to a doctor and yearning for a different job. When he finds a piece of salvage in a wreck that suggests there is a world out there that is rail-less, a utopia of sorts, he becomes determined to find this haven and the orphaned children whose parents died in the wreck. However, his captain destroys the image and instead insists on following her own philosophy – to catch and kill the tooth-colored moldywarpe (mole, in common English) that bit her arm off years ago.
A few caveats for those who pick up this book. First of all, the author has replaced the every single instance of the word "and" with an ampersand. If you are like me, and mentally pause or stop each time you read some sort of punctuation mark this might drive you a little insane until you become used to the stylistic desires of the author.
Second, even as an experienced reader of dystopian and steampunk literature, this novel still managed to confuse me. Are they on a land? Is there water? How is the world like or unlike ours? Why are these moles and other creatures so darn big? What catastrophic event caused all these events to happen?
Let me stress to you, future reader, that despite the weird punctuation marks, and the odd names, and the world that doesn't quite fit one genre, you should keep reading this book. I am a reader who tends to set a book down and never pick it up again if it doesn't grab me right away. I have a "too many books, too little time" philosophy. If I hadn't been reviewing this book, I'm not sure I would have kept going, but boy I am glad I did.
This book is beautifully written, with a leading character that, despite his crazy name, has a pure, gentle heart with an eye for adventure. It keeps you guessing, keeps you questioning, and as a reward for sticking with it gives you a fantastic, satisfying ending.
About the Author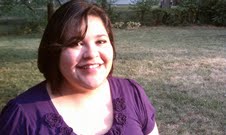 Elena McVicar is the Youth Services Librarian at the L.H. Bluford Branch of the Kansas City Public Library. When she's not at the library or catching up on her reading, she can be found playing with her dog, making cookies or watching way too much TV.