It wasn't enough for Ernest Hemingway to be one of the largest literary lions of the 20th century. His written works brought him celebrity and his many marriages, dalliances, and adventures were fodder for tabloids.
There was no experience too much for Hemingway to take on. From his wartime experiences on the Italian front in World War I, covering the Spanish Civil War, and his observations of D-Day and the liberation of Paris. He traded lofty ideas with Gertrude Stein's set in Paris, rode out the Labor Day hurricane in the Florida Keys, nearly died while on safari in the Serengeti, and awarded Fidel Castro a trophy in the Hemingway marlin fishing contest.
Hemingway lived as large as he wrote. Other writers have noticed this trait, and instead of writing biographies, they have chosen to cast Hemingway as a character in their own fiction. While Papa never takes center stage in these books, he often proves the most colorful and lively of supporting characters, and his fictional escapades fit nicely with his real ones. A reader could almost believe Hemingway really did help solve a crime, visit a boy's school, or was the object of tumultuous affection between two female friends in Paris.
Toros and Torsos, Craig McDonald
Look for Hemingway to play Dr. Watson to Hector Lassiter's Sherlock Holmes in Toros and Torsos by Craig McDonald. This darkly comic noir has the erstwhile pulp writer and his literati drinking buddy investigating a series of murders committed to resemble surrealist photographs and paintings in 1930s Madrid. Obsession and creativity collide in this novel in a way that would make Hemingway proud to be a part of such an atmospheric and artistic work.
Old School, Tobias Wolff
Ernest doesn't even make an appearance in Old School by Tobias Wolff, but his presence is the reason why a young writer takes desperate measures to write a short story that will impress his literary idol and garner a private audience with the great writer. Wolff expertly captures the cadence and tone of Hemingway's speech and writing in a critique that is both masterful and tongue-in-cheek. Our unnamed schoolboy struggles in much the same way Hemingway must have when crafting his greatest works.
The Paris Wife, Paula McLain
Then there's Hemingway the romantic, rebellious, hard-drinking hero. He meets his first wife, Hadley in Chicago and soon the pair are living in "Lost Generation" Paris with Stein, Ezra Pound, and the Fitzgeralds. Here Ernest will find the inspiration to write one of his greatest novels, The Sun Also Rises, yet his experiences and emotions are merely supporting pieces to the passions and complexities of his Paris Wife, Hadley. Paula McLain has gone farther than a biographer can in creating a three-dimensional figure in her biographical novel of the first Mrs. Hemingway, Hadley Richardson.
Running with the Bulls, Valerie Hemingway
Of course, any reader who wants a glimpse into the true life story of the Nobel laureate might take a trip down memory lane with Hemingway's personal secretary, Valerie Hemingway (nee Danby-Smith), via her memoir, Running with the Bulls. Valerie was a close confidante to Hemingway and his last wife, Mary as they traveled through Spain, France, and during the Cuban years. After Hemingway's death, Valerie married into the Hemingway clan when she wed Gregory, son of Pauline, Hemingway's second wife.
That's Ernest Hemingway for you. Always the center of attention, even when it's all about someone else. But what a marvelous spark.
About the Author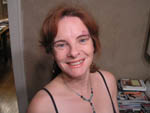 Kaite Mediatore Stover is the Head of Readers' Services for the Kansas City Public Library. She is a regular guest on KCUR's Book Doctors segment and moderator of The Kansas City Star's FYI Book Club.