Post date:
Friday, December 23, 2011
There's something about this season that brings out a little misanthrope in some readers. They're not Scrooges, just a little cynical regarding the forced merriment. For those readers, I've got a list of books that fall on the not-so-nice side.
For all the writers in The Worst Noel: Hellish Holiday Tales merry Christmases are all alike, but the unmerry ones are unmerry in their own unique and hilarious ways. A family on their way to a Christmas ski vacation hits a deer ("Donner is Dead"), and the mother begins to contemplate Darwinism and why it hasn't kept deer from crossing the road to get to the other side. An off-kilter gift-of-the-magi scenario has two poor New York artists trying to please each other with the worst gift imaginable ("Gift of the Magi Redux"). Don't look in this book for decorating tips or delicious holiday recipes.
Even monsters like to do the mash-up at holiday times. Just ask Ebenezer Scrooge, vampire slayer in A Vampire Christmas Carol by Sarah Gray. He's still lost all he's ever loved in this version of the Dickensian classic, but now with the help of unknown vampire hunters, workhorse Bob Cratchit, jolly nephew Fred, and fearless lost love Belle, Scrooge has one night to save himself. And buy a turkey for Tiny Tim.
Lift your holiday spirits with some tropical fun in Tim Dorsey's latest novel, When Elves Attack. Serge is a serial killer, but he's a likeable sort – like Dexter crossed with the Dude from The Big Lebowski. He doesn't like mall cops who yell at children visiting Santa. He likes Christmas postmarks and will wait happily at the teeming post office to mail himself a postcard. He doesn't like a friends' daughter's boyfriend, so Serge turned him into a rooftop lights display. And he makes gingerbread houses out of marijuana. There's nothing traditional about Serge's holidaze.
No holiday is complete without a visit from Edward Gorey. His Haunted Tea-Cozy also mocks A Christmas Carol in absurd spectral personages, such as a Bahum Bug resembling a cockroach, and an utterly banal leading man named Gravel.
It's easy to see that Gorey had some influence on the master of holiday snark, David Sedaris. If you've seen one too many holiday pageants, then you should start attending the theatre with Thaddeus Bristol, consummate critic of middle school holiday productions. Tired of the office grab-bag gift exchange? See how the barnyard animals organize a Secret Santa. And learn how not to write a holiday card letter from Mrs. Dunbar and her year-long saga with the new nanny. Spend the Holidays on Ice and throw in a few chuckles.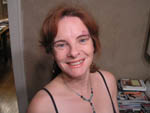 Kaite Mediatore Stover is the Readers Services Manager at the Kansas City Public Library. She is a regular guest on KCUR's Book Doctors segment and moderator of The Kansas City Star's FYI Book Club. She can tap dance, read tarot cards, and doesn't bite.