It's not very often that I pick up a non-fiction book by an author I am unfamiliar with.  I tend to read books by famous comedians or well known American actors because I have a fascination with popular culture.  For the Senior Book Club at the Fairmount Community Center, I chose to branch out and present a book to them by author Isabel Allende. We dove into My Invented Country: A Nostalgic Journey Through Chile by Allende, a selection from this year's Winter Reading Program.
Although she currently lives in California, Allende was born in Peru and was raised in Chile. Allende recounts her life and journey from Chile as a young working woman to a fairly simple life in the United States. She compares the roles of men and women in Chile and America, and many other aspects of daily life.
Allende's life is not unlike that of many women in the United States – her family experiences ups and downs and she feels lost as she searches for her own identity. Life is certainly not perfect in Chile, but does anyone really expect it to be anywhere else?
I found Allende's memoir to be an easy to read and thoughtful depiction of her home country.  Her style of writing is almost like a flow of consciousness – she jumps from one memory to the next with seemingly little connection, focusing on everything from minor details to pivotal moments in her life.
Although the flow of the book is a bit scattered, I found comfort in Allende's stories and her obvious affection for her home country.  Allende talks of feeling like an outsider and looking back on her own life with curiosity – which I think is something we all feel and do at some point in our lives.  She offers an interesting perspective that is relatable on a human level. 
There are times when Allende is not just thoughtful, but also extremely bold.  Her principles and politics may be off-putting to some readers, although I think everyone can find something to appreciate in such a well-written chronicle of a person's life.  There is something different and inviting about the stories that Allende has to tell.
I think that My Invented Country represents the way many of us look at the past – we tend to romanticize things and look fondly at events that really weren't so great the first time around.  (At least, I know I tend romanticize the past.) 
Isabel Allende does this in her nostalgic memoir, but she also shows a great appreciation for where she is now.  After stepping out of my comfort zone for this book, I hope to check some of Allende's other work, including another memoir Paula, or her novel Portrait in Sepia.
Further Viewing: Isabel Allende's TED Talk: "Tales of Passion"
About the Author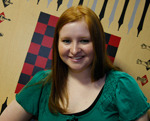 Megan Garrett is the librarian at the Sugar Creek Branch of the Kansas City Public Library. She also writes book reviews for the Independence Examiner newspaper.