Post date:
Monday, February 11, 2013
For women, it's not about the stuff, it's about the love. All-consuming love is just too intoxicating to ignore and after years growing up in the afterglow of the ERA and that "woman-man-fish-bicycle" mantra, we're finding new targets for our passions. Hence, some women's compulsive devotion to cats, firefighting, and shopping. Our personal obsessions make us who we are and you have to love us for them. Check out some of the books about what some women love and why.
Susan Allen Toth's passion is so big she needs another country to hold it. In My Love Affair with England, Toth adoringly describes a night of badger watching in Dartmoor, her secret obsession with royal family life gossip rags and a staunch preference for English breakfasts (hold the kippers). So great is Toth's ardor for the mother country. she took her then-boyfriend James to England to see if he could love England the way she did. He could and they married.
Tiko is in love with Joanna. Before he can court her, he must build a home for her and the space under the credenza might work. Ornithologist Joanna Burger shares a unique bond with the Amazon Parrot she adopted and adores in return. "Birds are my passion, but parrots are my weakness," she confesses in The Parrot Who Owns Me, an absorbing account of the unusual human-like relationship between Tiko and Burger. So strong is their connection that Burger admits to missing her feathered companion as much as her human one when she must travel.
Becky Bloomwood's shopping obsession is her undoing. Becky's fever-pitched consumer excursions in Confessions of a Shopaholic serve as warnings for us all as she wields her credit cards with demonic possession. Both delightful and shocking, Becky lives out every woman's shopping fantasy and confirms the fantasy after falling in love with a rich man who pays the bills.
No column on lusts in life can ignore Nancy Pearl. Her desire for books is palpable in Book Lust. Each page of reading recommendations is a literary swoon and Pearl admits to being lucky enough to combine her love and her labors into a single passion. Ahh, living your obsession, nice work if you can get it.
About the Author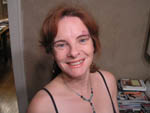 Kaite Mediatore Stover is the Director of Readers' Services at the Kansas City Public Library. She is a regular guest on KCUR's Book Doctors segment and moderator of The Kansas City Star's FYI Book Club. She can tap dance, read tarot cards, and doesn't bite.