Everyone says the book is always better than the movie. But sometimes the audio version of a book is better than the print. Listeners get all the same text that a reader gets, and sometimes, they get something more.
Audiobook listeners can get emotion, suspense, humor, and the beauty of a turn of phrase that might be missed by the eye but caught by the ear.
Think of audiobooks as storytime for adults. If you're looking for a place to start, try any of the five titles below. And if you're already an audiobook fan, take a look at this year's inaugural Listen List: Outstanding Audiobook Narration. These are the audiobooks judged to be twelve of the best produced in 2011.
Relative Danger by Charles Benoit, narrated by Patrick Lawlor

No one can accuse Doug Pearce of setting the world on fire. The unadventurous, uncurious young man has lost his steady job at a brewery and is being persuaded by an old friend of his uncle's to go to Morocco and look for answers to his untimely death and the jewel he was purportedly smuggling. This is a rollicking yarn, and narrator Patrick Lawlor keeps the large cast of colorful characters straight for the reader. Listeners will get an audible treat halfway through the book. Lawlor gets a showcase for his vocal prowess with a rugby team whose members represent every accent in Great Britain: Welsh, Cornish, Cockney, Scotch, Irish, Australian, New Zealand, Liverpudlian, and Canadian. Then he takes on the voices of a flirty Moroccan girl and an Egyptian man who likes to ape John Wayne. A vocal tour de force.
Ready Player One by Ernest Cline, narrated by Wil Wheaton

In the not so distant and especially bleak future, Wade spends all of his time in the Oasis, an online world that is a combination of Second Life, Facebook, and RPGs. Along with every citizen of the Oasis, Wade is on a quest to discover the "Easter egg" of the creator of the Oasis. The egg will reveal a priceless treasure, and Wade, brought up in poverty, hopes he will be the first to find it. Wil Wheaton is a perfect vocal match for the angsty, dedicated, and lovelorn teen in this compelling science fiction debut. Listeners will get an additional treat when they hear Wheaton namedrop himself as a character.
The Heroines by Eileen Favorite, narrated by Charlotte Parry

Ever wonder what your favorite characters are doing when they're not on the page in front of you? Women from works of classic literature (Emma Bovary, Scarlett O'Hara, and Hester Prynne among them) are getting a little rest and relaxation at Penny's mother's bed and breakfast. The heroines have no idea what their fates are, but Anne-Marie does and she doesn't want her daughter, Penny, tell them, so she keeps Penny's books locked up in the attic. Penny doesn't mind the dramatic, demanding heroines dropping in unexpectedly and soaking up her mother's time, until Deirdre of the Sorrows arrives. She is the most challenging and complicated of any heroine Penny has ever encountered. Like Patrick Lawlor, Charlotte Parry has a full-cast of characters from a range of literature to audibly play with and the listener reaps the benefits. Parry does a petulant Scarlett, a vague Franny Glass, a sanctimonious Hester and bratty Pearl, and a feverish Cathy Earnshaw. Not to mention a typical teenager, a secretive mother, and a haughty German housekeeper.
Pick Up Game: A Full Day of Full Court by various authors, narrated by Dion Graham and Quincy Tyler Bernstine

This anthology of short stories, hip-hop poetry, and photographs mimics the rhythm, beats, and bounce of a steamy day of street basketball. The two narrators divide the duties. Dion Graham takes on all the short stories while Quincy Tyler Bernstine does the poetry that separates them. The many voices of the authors and their characters come through Graham's tones and varied vocal pacing: a filmmaker's manic mannerisms, a student's dedication to perfection on the court, a construction worker's nostalgic nod to fallen coworkers, a young girl's yearning for the court's star player. This collection moves quickly, and listeners will be surprised all the characters are coming from one voice.
Ain't She Sweet by Susan Elizabeth Phillips, narrated by Kate Fleming

All the sparkling, witty dialogue in a Phillips romantic comedy is elevated further with narration. As a teen, Sugar Beth was a gorgeous spoiled girl who terrorized her classmates. As an adult, Sugar Beth has learned a little humility, but she's not letting anyone see it, and her old friends and classmates are bent on payback. Fleming handles all the voices masterfully, from Sugar Beth's proud, snarky, yet vulnerable tones, to the arrogant voice of her old English teacher now landlord, Colin Byrne, and the nervous, sincere accent of her half-sister, Winnie. Kate Fleming keeps the pace lively and carefully balances the humor and drama.
What great books have you listened to lately?
About the Author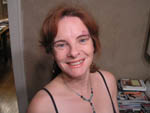 Kaite Mediatore Stover is the Readers Services Manager at the Kansas City Public Library. She is a regular guest on KCUR's Book Doctors segment and moderator of The Kansas City Star's FYI Book Club. She can tap dance, read tarot cards, and doesn't bite.