Some kids breeze through high school with good looks and good grades, while others can be their peers' object of torment. Is there a hierarchy of status based on attractiveness? Siobhan Vivian puts this to the test in her YA novel The List.
Upon arrival the Monday morning before the Homecoming dance, students at Mount Washington High School find a list posted everywhere. "The List" has been a tradition for as long as anyone can remember, be it good or bad. One girl in each grade, 9th-12th, is named the prettiest and her popularity soars.
Unfortunately, one girl in each grade is also named the ugliest. Her social acceptance becomes questionable as everyone seems to acknowledge the list as gospel. This year's list is no different – four girls are named the prettiest, and four girls are named the ugliest in each of their respective grades. The prettiest senior is a shoo-in for homecoming queen, and the ugliest senior makes the list for the fourth year in a row.
The List offers a unique perspective in the way that this particular story is told. Following a prologue explaining the tradition of the list, each new chapter is told from a different girl's point of view. We meet Abby, Danielle, Lauren, Candace, Bridget, Sarah, Margo, and Jennifer. According to the list, they are either ugly or pretty based on someone else's standards. This technique is difficult to follow at first, because there are so many voices in this story. With eight different alternating perspectives, it took me a while to get used to the flow of the narrative. But once you become invested in the characters, you see that their stories and experiences are completely different and the overall story gets easier to follow.
I like the idea of the story and thought the multiple perspectives were an interesting concept. I've read several young adult novels in the past where the narrative alternates between two or three characters, but never eight all at once! I've found that young adult authors like to give male and female perspectives of the same story, and sometimes that one story is even written by multiple authors. I'm curious to know if Vivian interviewed or consulted different teenage girls to get these numerous angles, because each character's ideas and thought processes are all so unique.
About halfway through the story I began to wonder – whose cruel idea of fun was it to make the list? I wanted to know who did it this year, and all the years prior. Surely it couldn't be a student, because each student eventually graduates. But if it's not a student…could it possibly be a teacher or faculty member? What kind of brutal administrator would subject young girls to such a contest? And what if I had ended up on the list? The girls declared "pretty" seemed to have it made…but the girls declared "ugly" have a completely different experience. Although no one's life stays the same; all the girls are immediately treated differently by their peers, teachers, and even family members. They all share a common dilemma, yet deal with it in vastly different measures.
I can't imagine what it would be like to be singled out on the list – either as pretty or as ugly. I picture both scenarios as difficult; if you are named prettiest you could cause jealousy and fighting amongst your friends, yet if you are ugly you could become a social outcast.
I think anyone who reads The List by Siobhan Vivian can find an experience within the story that is relatable – pretty, or ugly, or both.
About the Author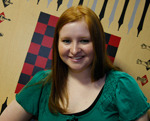 Megan Garrett is the librarian at the Sugar Creek Branch of the Kansas City Public Library. She also writes book reviews for the Independence Examiner newspaper.