Post date:
Wednesday, December 21, 2011
At the end of each year I review my book log to see what I've read this year. All I write down is the year, month and the title and author of the book I finished and in what format I read the book, print, electronic or audio.
I don't take any notes or make any comments. Just keeping a list is enough to bring back a memory of whether or not I liked a book. The only guideline I have is to list only books I've completed.
This year, I'm going through the list looking for the best 11 books I read this year. Not all of them were published in 2011, but they were all read in 2011.
A Discovery of Witches by Deborah Harkness

I received a much-coveted galley of this first in a trilogy about a young academic witch who uncovers a magic book in the Bodleian Library and becomes romantically involved with a handsome vampire-scientist as they try to investigate the genetics of their families. I remember gobbling this book during those wretched snowstorms in January.
The American Heiress by Daisy Goodwin

Like most of America, I went through severe Downton Abbey withdrawal in February. This book was a great stand-in. It's a novel that lifts the relationship and lives of wealthy, beautiful heiress Consuelo Vanderbilt and her manipulative mother, Alva, to tell the story of Cora Cash and her search for a titled English husband with considerably less money than Miss Cash. Dramatic, compelling, a bonbon of a book. It was perfect for Valentine's Day.
The Eyre Affair by Jasper Fforde

I don't often reread books. Life's too short and there's too many good ones out there. But I reread this first in the Thursday Next series since Mr. Fforde was paying a visit to my library on St. Patrick's Day (get photos and audio of his presentation). My favorite scene in this literary-themed alternative universe remains the Rocky Horroresque production of Richard III. I chortle whenever I read, "When is the winter of our discontent?"
The Last Days of Ptolemy Grey by Walter Mosley

I listened to this book on CD and was completely captivated by the voice of nonagenarian Ptolemy Grey as spoken by Dominic Hoffman. Ptolemy suffers from slight dementia and with help from a lovely street smart teen, his home life and business affairs are put in order. He also opts to participate in a radical medical procedure that could restore his intellectual acumen. Riveting. I drove all over Kansas City in April just to finish this story.
My Stroke of Insight by Jill Bolte Taylor

Just the topic alone had me at the first page. The author, a respected neuroscientist, suffers a stroke and then records her thought process while it's happening and her recovery afterwards. Taylor's honest and thoughtful examination of her own mental state is fascinating and inspiring. My favorite take away line from this memoir? "You're experiencing a bad brain loop. Fast forward to a more positive one." Perfect thoughts for spring.
Thirteen Reasons Why by Jay Asher

This is a young adult novel I picked up after I saw a profile of the author in Entertainment Weekly. What a powerhouse of a story. A high school girl has committed suicide but before her death, she recorded the reasons why on cassette tapes. There are 13 reasons and 13 people who have made a difference in her life. A stunning debut and very suitable for book groups.
Ready Player One by Ernest Cline

Anyone who thinks the online world of gamers is too technical or boring, needs to dive into Cline's debut compu-adventure about the hunt for a priceless "easter egg" that could mean billions of dollars for the lucky finder. A speedy plot with engaging characters and a ton of 1980s pop culture references. Some interesting commentary on how technology and social media are changing our lives, too.
The Night Circus by Erin Morgenstern

Another debut novel with a fascinating premise. A mysterious circus appears out of thin air and is only open at night. The performers are magicians, contortionists, and animal charmers; and the tents house wishing trees, pools of tears, and cloud mazes. The circus is a battle ground for two dueling magicians locked in a challenge that can only have one winner.
The Pick-Up Game by Marc Aronson (editor)

A collection of poems and short portraits revolving around a New York City street basketball court. The players, the watchers, and the fans all get a unique voice in this grouping of pieces. A great read, but an even better audio.
The Radleys by Matt Haig

Just in time for Halloween, I listened to this domestic drama about a family of vampires who are trying desperately to be "vegetarians." One night, daughter Clara is attacked by a drunk classmate. When she fights back, she discovers untapped powers that unleash a whole lotta hurt on this guy and grief for the family.
The Witches of Lublin by Ellen Kushner

This audio drama was adapted from a little known story of female klezmer musicians in Eastern Europe. In addition to outstanding performances from voice actors Tovah Feldshuh, Neil Gaiman, and Barbara Rosenblat, listen for the original music.
Big Wheat by Richard Thompson

I'm not usually drawn to historical mysteries, but I was engrossed in this one for the time period and the setting. It's pre-Depression Era Midwest. A young man leaves his fickle sweetheart and abusive father to pursue a life as an "engineer," repairing threshing machines. On his trail is the Windmill Man, a serial killer who believes Charlie saw him burying one of his victims. The mystery will suck you in, but stay for the absorbing period detail and colorful characters making a life for themselves on the high prairie.
About the Author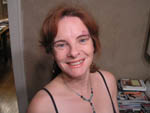 Kaite Mediatore Stover is the Readers Services Manager at the Kansas City Public Library. She is a regular guest on KCUR's Book Doctors segment and moderator of The Kansas City Star's FYI Book Club. She can tap dance, read tarot cards, and doesn't bite.