Post date:
Tuesday, November 20, 2012
Whether you are a beginning cook or just looking for a collection of simple, delicious, everyday recipes, How To Cook Everything: The Basics by Mark Bittman is a staple for any kitchen.
Published in March, this newest offering from New York Times food writer Mark Bittman, is a pared down version of his 1998 classic, How to Cook Everything. A condensed and updated version of the massive original blockbuster, it contains 185 easy-to-follow recipes that are straight forward and, for the most part, a snap to put together.
The ingredients are inexpensive, easy to find, and combine for tasty dishes that you might find yourself serving to family and friends over and over again.
For the person who has absolutely no experience in the kitchen, this book is a food bible. It breaks down the process of cooking step-by-step, complete with photos, so that the kitchen no longer feels like an intimidating place to be.
HTCE: The Basics starts at the beginning of "Cooking 101" and patiently demonstrates the process of becoming a self-assured, competent cook. Bittman tackles kitchen equipment and tools, stocking a pantry, kitchen vocabulary, food preparation skills, creating a menu, and everything else you need to know to be successful in the kitchen.
What also makes this book a culinary page-turner and a must-have are the 1,000 pictures crammed into the book, including multiple photos of most recipes while they are being made. Even experienced cooks can brush up on kitchen skills and learn something new in this fact-filled culinary guide.
At least, that's what I found when I whipped up a batch of Spicy Cheddar Shortbread.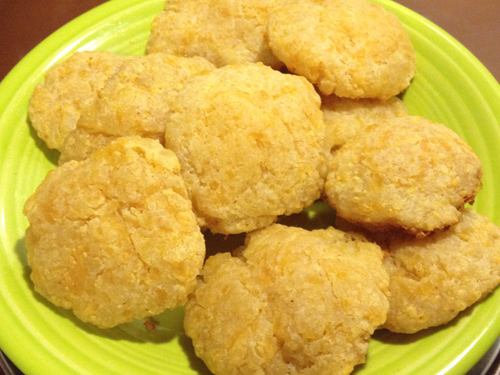 Bittman was first inspired to create HTCE as a way to help people realize that cooking does not have to be hard or complicated. He also points out that cooking comes with many satisfying rewards like saving money, producing more nutritious food choices and getting your loved ones together for a delicious family meal and great conversation.
Though it's not as comprehensive as the original HTCE by any means, the dishes presented in The Basics do have variety. Some of them are as simple and basic as scrambled eggs or tossed green salad, but other offerings like Thai-style noodles with shrimp or garlicky white bean soup will add a slight twist for your taste buds.
Each entree also contains helpful tips to ensure success along with several possible variations for the more advanced cook.
Food categories included in the book are breakfast, appetizers and snacks, salads, soups and stews, pasta and grains, vegetables and beans, meat, poultry, seafood, breads and desserts. Some of the best sections, however, don't involve recipes, but valuable "kitchen lessons" encompassing anything from how to use seasonings to how to trim meat properly for cooking.
Overall, this cookbook gives you the confidence to tie on that apron, whip out a spatula and get to work making dishes that your family and friends are sure to love.
Best of all, like its successor, this is one of those cookbooks that can stand the test of time. It's not a "flash in the pan" offering promoting the latest culinary trend or a popular celebrity. Instead, it's a practical, down-to-earth resource guide that you will find yourself turning to again and again.
About the Author

Amy Morris is a librarian technical assistant at the Westport Branch. She earned a B.A. in English, with an emphasis in creative writing, from Avila University. Besides reading and writing, Amy enjoys traveling, art, being creative, and spending time with her family.