There's something about October that draws readers to the scary books. Which are the scary books? That's up to the reader because horror is anything that takes the reader out of his or her comfort zone. It can be the fear of child birth, living along, surviving an apocalypse, a rabid cat, germs, etc. Horror plays on the readers' fears and makes them living nightmares. A book can invoke a feeling of horror, and not necessarily be a horror novel.
Chelsea Cain's Heartsick describes a cop's worst nightmare at the hands of a sadistic serial killer. The torture scene will turn anyone's stomach, but the novel itself isn't classified as horror and Cain does not consider herself a horror writer. This book is adopting an element from the horror camp by keeping the horror of Gretchen alive and viable. Thomas Harris did this with Silence of the Lambs, a psychological thriller, but Lector escapes at the end. The evil is not vanquished.
The Road has been lauded as a literary masterpiece, yet it is the realistic, and horrifying, fear of being one of the few humans left to survive an apocalypse that could put it in fiction's fear category.
In keeping with October's spooky tone, here's a list of books that have plenty of horror elements and are dipping their rotting fingers into other literary genres.
Chelsea Cain was mentioned earlier. Heartsick is the first in a series featuring a serial killer so creepy a blind person will sleep with the lights on (Sweetheart, Evil At Heart). It falls in a couple of camps—thriller, crime, and horror—I put it in horror for the descriptive gore and terrifying character of Gretchen, who could also be called the Bride of Bundy. Gretchen is seductive, brutal, manipulative and an off-the-chart genius sociopath. Horror is all about the scare, and Gretchen is the lovechild of Carrie and Hannibal. Cain can't keep this twisted pushmepullyou relationship going forever, and her fans can't wait to see what she twists next.
Horror writers don't need to look any further than their own backyards and kitchen appliances to find things to scare people with. It's coming right out of our radios, televisions, iPhones and Netbooks. News of viruses of all kinds—computer, internet, medical, and culinary is typical in our daily lives. But horror writers are taking it a step further. What if talking on your cell phone is causing brain damage? (Cell) What if ghosts can come through your airwaves? (Ghost Radio) What kind of disease could kill an entire airplane's passengers and crew? (The Strain) And what's in the food and water anyway? (Fast Food Nation).
A first novel from a former magazine writer has all that old timey scare we know and love. Christopher Ransom has chosen as the subject of his first novel a house that takes life to give birth. Two career driven Los Angelenos purchase an old "birthing house" in rural Wisconsin. The locals don't claim the manse is haunted, but tell tales of women over the past hundred years or so giving birth to many babies—not all of them normal—within it walls. What makes a house haunted? A history? Or is the haunting merely history roused from its rest? If Stephen King had been the architect and the Octomom the decorator, you'd have The Birthing House. Who knew the heartland had a heart so full of darkness?
Joe Hill is Daddy's little boy all grown up. And who's his Daddy? Stephen King, the ultimate horrormeister. While he definitely inherited the horror DNA, Hill prefers to poke it with a pitchfork until it giggles and squishes. Hill's first novel, Heart-Shaped Box was a break out sensation. His second novel, Horns, adds a little more devilish fun to the horror genre. After a night of unforgettable debauchery he can't remember, Iggy discovers horns on his head. No one else seems to notice them, but they sure want to tell Iggy all their darkest secrets, most vengeful thoughts, and vile desires. And they want Iggy's approval for it. Hill's talent with horror is mixing the macabre with the absurd.
Choose your own scare this month.
About the Author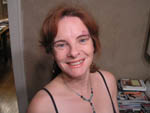 Kaite Mediatore Stover is the Readers Services Manager at the Kansas City Public Library. She is a regular guest on KCUR's Book Doctors segment and moderator of The Kansas City Star's FYI Book Club. She can tap dance, read tarot cards, and doesn't bite.