Most folks don't think of reading when the weather is nice. They'd rather be outside at a park, or gardening, boating, or doing the backstroke. But for just about any summer activity, there's a book to match it.
If you're heading to the pool, grab The Handyman by Carolyn See, a dreamy and surprising novel about the life of an aspiring painter who doesn't know what to paint. So he turns to handyman work instead and in a myriad of ways, changes the lives of all the people he works for, never realizing that his inspiration is right in front of his eyes.
If you're going to visit a historic forts or Civil War battlefield on your summer trip, consider Dreaming the Bull by Manda Scott. Celtic warrior queen Boudica was once the most feared leader in Brittania. But in a battle with the Romans she has lost her beloved warrior-dreamer brother, Ban. Ban was taken prisoner by the Romans and has been indoctrinated into Roman military society only to return to the land of his birth and wage a new war on his sister and her armies. A thrilling historical novel with complex characters and suspenseful plot.
If one of your favorite summer activities is the adrenaline rush of amusement parks, then you need Severance Package by Duane Swierczynski. Key personnel for a department in a large firm have been called to a special Saturday-morning meeting where they learn they are all being terminated—in the literal sense. The secret government agency they all work for, some unwittingly, has been compromised and in order to contain the leak, the staff is being eliminated. This is a rollercoaster ride of an office novel. You may need to call in sick to finish it.
The road beckons to many summer travelers, but it's not what Brent wants to be doing this summer. In Whirligig by Paul Fleischman, Brent is sent on a redemptive journey by the mother of the teen he accidentally killed in a drunk-driving accident. Brent must travel to the four corners of the United States, building wooden toys called whirligigs in honor of Lea and contemplating the life she would have lived. As Brent does this, he thinks of his own life and how he can start over, never knowing that he and Lea are changing the lives of the old women, young children, and confused adults who stumble upon the whirligigs after he has gone.
About the Author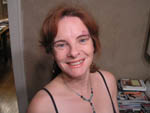 Kaite Mediatore Stover is the Readers Services Manager at the Kansas City Public Library. She is a regular guest on KCUR's Book Doctors segment and moderator of The Kansas City Star's FYI Book Club. She can tap dance, read tarot cards, and doesn't bite.