Humor is so subjective. And sometimes it's gender specific. We've tried, guys. Honestly, we have. But we just don't understand why you're so amused with the sound effects produced from every orifice and contortion of your bodies.
Women have enough body issues, thankyouverymuch, and rarely do we find anything to laugh at, even if it is slipping faster than a buffalo on a banana peel.
Here are four classic literary romps guaranteed to tickle your feminine funnybone.
Women find enough humor in the comedies that pass for our daily lives. Which is why we love Judy Blume's pre-teen classic, Are You There, God? It's Me, Margaret. Our gal suffers through all the growing pains some of us still experience: boy-girl parties, looking for religion, and wearing handknit sweaters made "expressly for you" by grandma.
Nothing sends us into gales of laughter quicker than the phrase "fix up." Our favorite matchmaker is Emma. Jane Austen's heroine is so loveably clueless and stubborn in her altruistic righteousness, we can't help but smile when she fashionably wears egg on her face once all her love schemes implode.
Other women's foibles are much more entertaining than our own, even if they are our own. That other charming Emma from Sophie Kinsella's Can You Keep a Secret? is terrified the plane she's on is about to crash. She spends what she thinks are her last remaining minutes on this mortal coil clutching her handsome seatmate's arm as she blurts out all most embarrassing secrets. The next day, Emma's airplane confessor pops into her office as, what else, her new boss. We can relate.
And when it comes to payback, no one writes a revenge fantasy better than Terry McMillan. Exhibit A: page 89 of Waiting to Exhale. By the time Bernadine finishes packing her lyingnogoodcheating husband's luxury goods into his BMW, you can taste the dish Bernie is about to serve up hot. With panache and lighter fluid to spare, Bernie lights a match that signals her freedom and the birth of the "you go, girl" movement.
What are we laughing at, you ask? We're laughing at ourselves, warts and all.
About the Author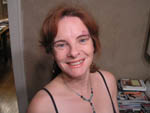 Kaite Mediatore Stover is the Head of Readers' Services for the Kansas City Public Library. She is a regular guest on KCUR's Book Doctors segment and moderator of The Kansas City Star's FYI Book Club. She can tap dance, read tarot cards, and doesn't bite.